FO Friday: A boatload of Christmas Stockings
Never let it be said that I don't jump into things with both feet. For my first Finished Object Friday, I present not one, not two, but ten knitted stockings!
Now, before you get too impressed, I've been working on them since February. I promised my mother-in-law I'd knit everyone in the family a stocking with their name on it after seeing the pitiful state of their stocking collection over Christmas 2010. I don't want to disparage another knitter… but let's just say the lady who made several of them in the early '80s (out of eye-searing green and red acrylic) should probably have kept her colorwork floats loose enough to actually be able to get things in and out of the stockings. I'm just saying.
So at the beginning of this year, I ordered a bunch of heavy-worsted weight yarn, settled on a pattern, sketched out the colors and design, and went to work.
The first two went quickly. I actually thought they were pretty fun at that point. But as I kept going (interspersing them with other projects so I didn't go insane), I started to get more and more sick of the pattern, the yarn, the need to pay attention to the colorwork, weaving in dozens of ends at the end of each one… I definitely had to grit my teeth and just power through the last few.
I am so beyond delighted to have these done.
After hearing me moan about having trouble blocking them all to the same size, my darling husband got some heavy wire from the hardware store and made me a blocking form!
The before and after pics show why this was desperately needed:
Here are the specs:
Pattern: loosely based on Ysolda Teague's Last Minute Stockings (Ravelry link), with lots and lots of mods
Yarn: Cascade Ecological Wool and Eco+ for the red, green, and white. The different contrasting color for each family varied. Full details available on my Rav project entry here.
Needles: Size 9 (these were even a little big for this yarn; it's supposed to be chunky, but I don't believe that for a minute).
Notes: I actually would much rather have followed the pattern to the letter (so cute and rustic!), but I was attempting to at least kinda-sorta approximate the wretched '80s stockings, so I had to follow specific guidelines. I did the names stranded rather than duplicate stitch… the floats are slightly visible through the fabric at the back, but it isn't bad.
I did learn a new technique, the figure 8 cast-on. Even after 10 times, I still think it's awesome.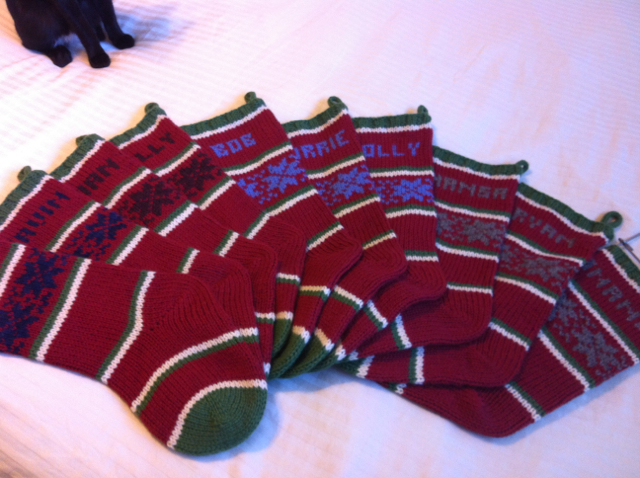 My mom saw a few of these last time she came out to visit and gave me the big puppy-dog eyes… but I told her she'll have to wait a year. At least. And when I knit them for her family, I get to pick the patterns.