New Pattern: Europos Scarf!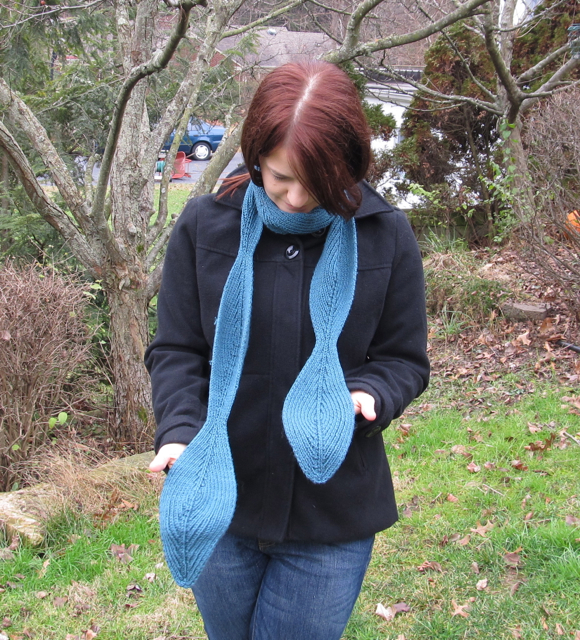 My new pattern is the Europos Scarf, inspired by Barbara Walker's interpretation of the famous "knitting" fragment discovered in the Indus River Valley around 250 A.D. The fragment was dated back thousands of years and was long thought to be the earliest example of knit fabric, but they later proved the technique used was actually nalbinding, not knitting at all.
There's a fascinating Knitty article by Julie Theaker here that mentions the Dura-Europos fragment. Check it out if you're interested!
Now that the history lesson's out of the way, I can talk about the scarf, heh.  The sample was really, really fun to knit–one of those designs where everything works the first time and the finished product actually looks better than what you saw in your head! The motif from Barbara Walker #2 included edge stitches to keep the piece rectangular, but I decided I liked the undulating shape without the edges (plus, it makes the scarf super-quick to knit, since you narrow down to only a few stitches between each "leaf").
I also changed the decreases, since the one BW specified looked sort of odd to me. I decided to go with a purl lifted increase (PLI) after swatching: new to me, but easy to work once you get the hang of it and looks pretty in the pattern! The scarf's reversible, too–not exactly the same on both sides, but pretty either way.
I used some pretty Rowan Cashsoft DK to knit the sample. My sister-in-law brought all the way from England for me as a birthday present last summer!
The scarf is perfect for warmer climes: a nice pop of color against a black coat, but not too warm or stifling. I think I'll wear it a lot this winter!
The pattern for this scarf  is available to purchase for $4.00 here.