Today's topic asks: Are you a knitter or a crocheter, or are you a bit of both?
I am a knitter, through and through. I've taught myself to do single crochet for edgings and joining, but other than that, I'm pretty terrible at it.
Every once in a while I get an urge to improve my crochet skills, though… usually when I see some adorable amigurumi (like Stacy Trock's — LOVE her stuff! Sandford the Squid and Morris the Dragon are my faves) or something heart-wrenchingly adorable like these baby Mary Janes:
Besides my lack of skill, I don't see how I could ever watch TV/look out the window/read a book while I crochet. I can do all of those things while knitting, as long as my project isn't too complicated. I can feel the stitches as they slide off the end of the needle without needing to look at them. Crochet, as far as I can tell, requires you to look down to see where to insert the hook, regardless of skill level.
That said, I am glad I know how to edge things in crochet. That definitely comes in handy.
Here's a little baby jacket with crocheted edging and button loops:
And a blanket with crocheted-together squares: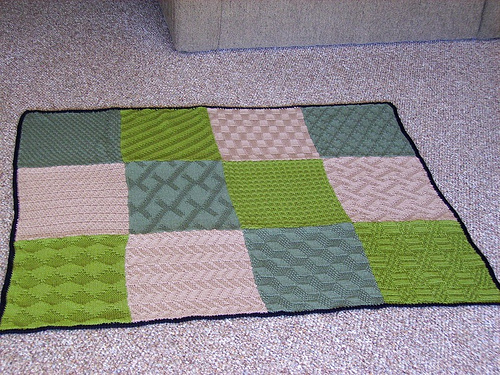 I've dabbled a teensy bit in other crafts, but I don't think I can ever feel the same unbridled love for crochet (or sewing, or papercrafting, or sculpting…). To me, knitting is the best of all worlds–meditative and calming, yet challenging; endlessly versatile; beautiful and useful.
I don't fault anyone for feeling differently, of course–things would be very boring if we were all the same!