Earlier posts in this series: Design Process Part 2: Sketching, Swatching and Math ~ Design Process Part 1: Inspiration
The next step in the design process is, of course, to knit the sweater. (Actually, I shouldn't say "of course". There are plenty of designers who work out the whole pattern for the sweater, grading and all, before they knit a stitch of the actual sweater. That just doesn't happen to be my process.)
I've been working on it for a few days, and I just split the sleeves off last night: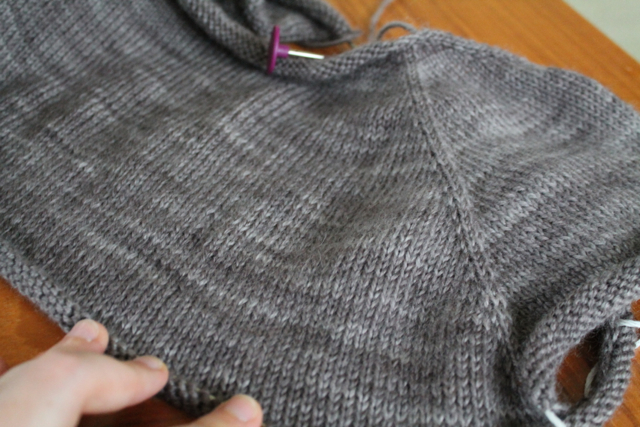 I'm very pleased with the sweater so far! The only hiccup I experienced was a slight change in row gauge from my swatch to the sweater. In the swatch, I got 8.5 rows to 1 inch, which didn't change when I blocked it. In the sweater, I'm getting 8 rows/in. Luckily I noticed this in time to realize I'd need to shorten the yoke depth by a few rows. Not a big change–but something I always check now, after being burned by gauge swatches before!
And look, it fits rather well (these pics were taken at about 11:00 last night, so please forgive the messy hair and lack of makeup):
Another reality check I do as the sweater progresses relates to the amount of yarn I'm using. There have definitely been times where I assumed I'd need a certain number of skeins and completely mis-estimated–and that's much nicer to figure out at the beginning of a sweater, so I have time to order more.
But it looks like I'll have plenty of yarn. I still have well over half the giant skein left, which should hopefully get me the rest of the way through the body. And if that works, I won't have to worry about alternating skeins at the changeover point (a real concern when working with handpainted yarn). So bonus!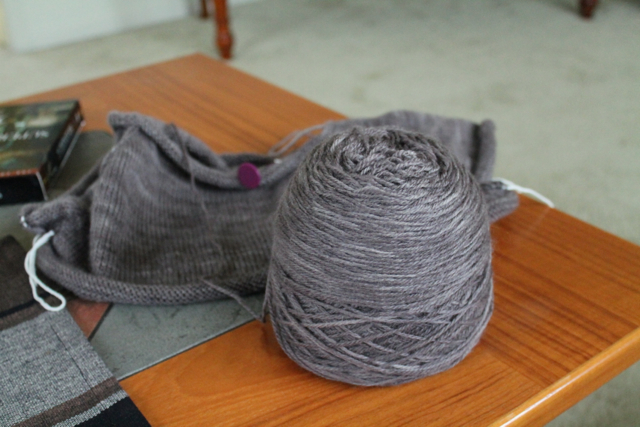 More WIP photos to come!