FO Friday: Creme de Menthe
I'm running my biggest promotion ever to celebrate my 30th birthday tomorrow: 50% off any self-published pattern in my Ravelry store with the coupon code 50for30. The sale goes through the end of the day tomorrow (US Eastern Time).
Official business out of the way, here's the FO Friday post for my Madelinetosh Twist DK vest!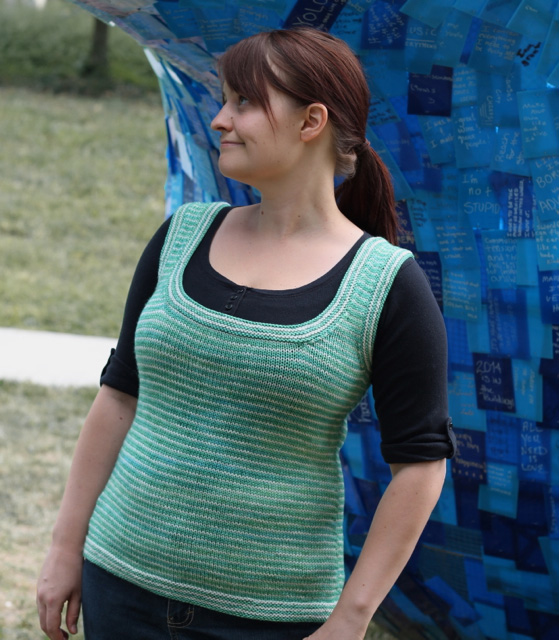 We had a blast with the photoshoot. I wanted a fun vibe, since the vest is a little more kooky than some of my pieces. I think it turned out pretty well!
The specs:
Pattern: My own Creme de Menthe pattern, which will be in testing in the next few weeks and probably released in… late September? Early October?
Yarn: Madelinetosh Twist DK, two skeins of Bluestem Willow and one of Farmhouse White. I can't say enough good things about this yarn. Squishy, springy, delightful to knit with. It's only available through the Madelinetosh shop, and I confess I've been stalking it a bit for a sweater quantity in a deep green or blue.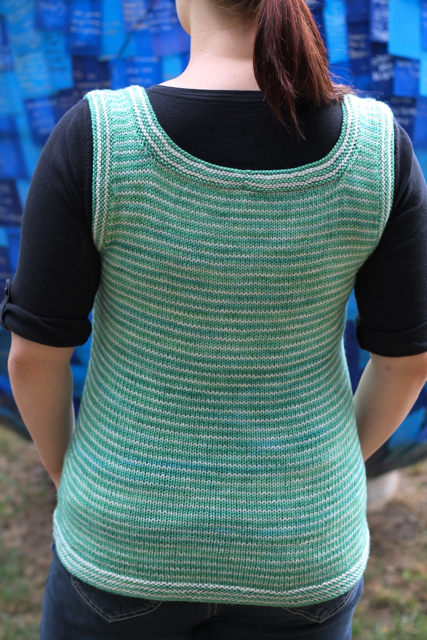 Notes: Gosh I love this vest! I decided up front to do 2:1 stripes through the body, which made things very interesting when it went from knitting in the round to flat. But that was perfect–after all that stockinette, the interest of having to read the knitting and push the work from one side of the needle to the other added just the right amount of interest.
I'm writing the pattern with two different sections for that part: first, there will be a little summary for those who have some experience or feel comfortable checking it themselves. Second, there will be a table with row-by-row instructions for those who need a little more hand-holding. This is a new format for me, so I'm interested to see how my testers like it!
The planned stripe effect on the shoulders turned out great, if I do say so myself: