The baby blanket is almost done! It looks a lot better now that it's not so scrunched up on the needles: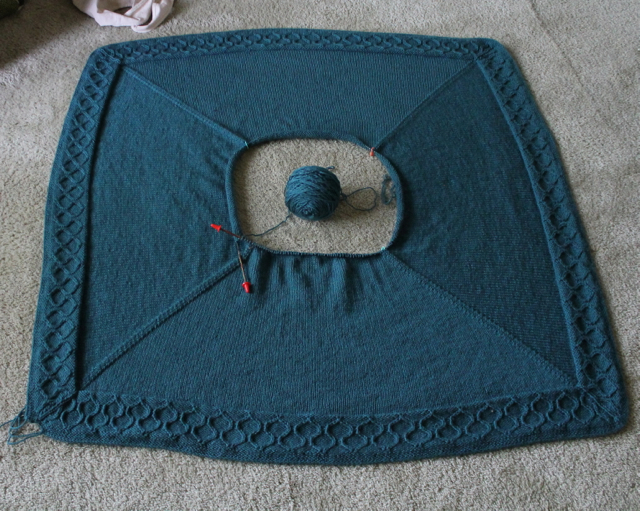 I ran out of yarn a few days ago and ordered a couple of skeins from Knit Picks on Monday with express shipping. Imagine my shock when they were on my doorstep yesterday. Their warehouse is in Ohio, only one state away from me, but still–that's some lightning fast shipping!
I think I might do another repeat of the border pattern to echo the motif and break up the swath of stockinette, but I haven't 100% decided yet. I'll probably try it–I can always rip it out if I don't like the way it looks. (It's a lot less daunting to rip out sections at this point than it was earlier, when there were 600+ sts!)
I'm also deep in planning for the TNNA summer show this weekend. Like last year, I'm part of a rotating exhibit of designers through my print pattern distributor, Stitch Sprouts. I'm really excited that the show is in Indianapolis this year, only about 45 minutes away from me. It means I can haul my 7-month pregnant self there without too much difficulty.
I wanted a good way to display some hats on a table in my booth, but I forgot to order early enough to get cute hat stands from Etsy or eBay (I blame pregnancy brain). So yesterday I went out and got some inexpensive paper towel holders, styrofoam balls, fabric remnants, and ribbon. Following parts of a few different tutorials I found online, I came up with this: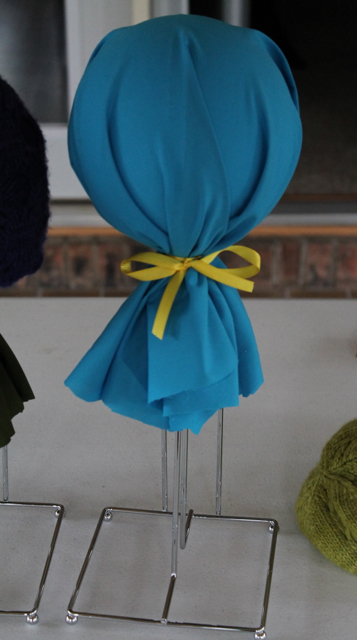 I think they turned out pretty cute!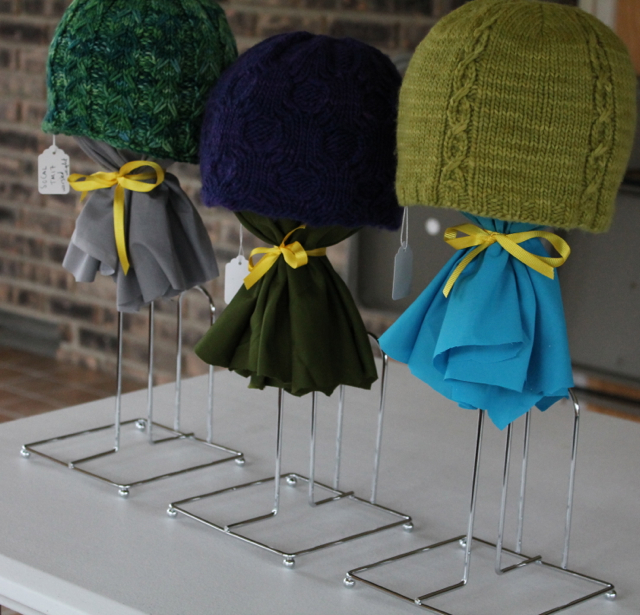 I finished this little sweater a few weeks ago, but I never got around to blogging about it.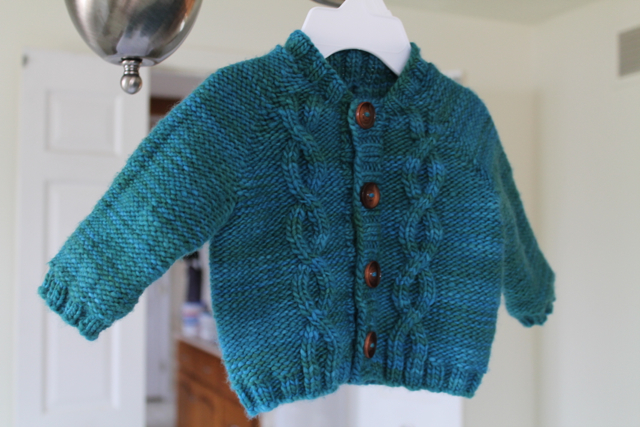 Most of the party is in the back: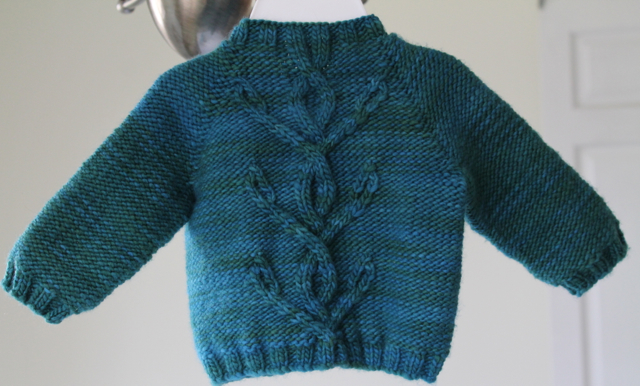 The specs:
Pattern: My own (very first self-designed baby garment!).
Yarn: Malabrigo Worsted in Emerald, about 1.25 skeins. This yarn has been marinating in my stash since August of 2012 (long time readers might remember it from this birthday wrap-up post!). I love using long-term stash yarn.
And yes, it's completely impractical, since the yarn isn't machine washable. But it's cuddly soft, and I figure my baby will probably fit into it for about 30 seconds anyway, so I'm willing to do a few hand-wash-and-dry-flat rounds.
Notes: I was shooting for a 3-6 month size, since my little one will be born in July and this won't be worn until the fall. I think I pulled it off, but the sweater looks so teeny to me… I guess time will tell.
My plan is to write up this pattern and get it tested this summer, and then I can make this part of the baby collection I'm planning to release this fall.
I really like the little cable pattern on the back. It shows up so nicely in the Malabrigo: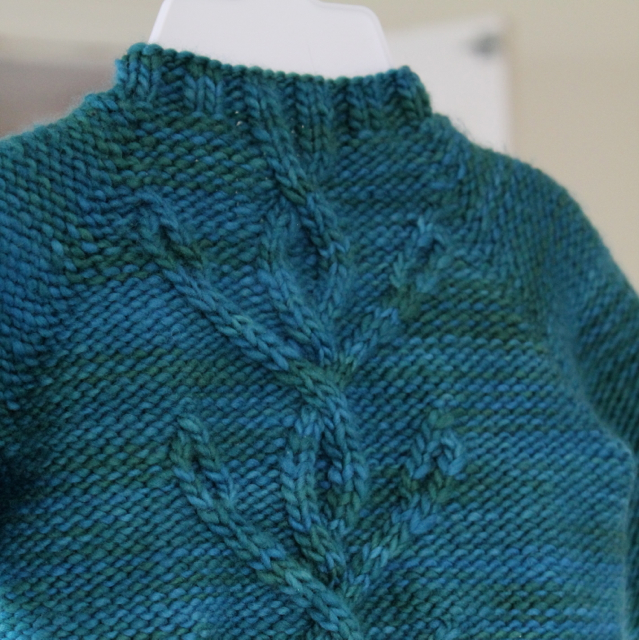 You'll eventually see more pictures of this one when my model arrives!
Remember how I said I was obsessed with baby knits these days?
I knew I wanted to design some kind of baby blanket for my kiddo, so I delved into my inspiration folder and came up with these two blanket-like ideas.
After a bunch of swatching, I found a stitch pattern I liked that was reminiscent of the swirls from the first pattern. I figured a "start at the middle and increase on four lines to the edges" construction would work well for the pattern, but there was just one problem.
I hate projects that start with very few stitches and increase out to a zillion at the edges.
I would so much rather slog through the loooong part at the beginning and then be rewarded with ever-increasing speed and progress as I go on. That way the initial burst of enthusiasm sustains me through the beginning, and the visible progress sustains me through the rest of the project. So I decided to design this blanket to be worked outside-in instead of the more traditional inside-out.
I swatched a corner, took a picture, put it in Photoshop, and played around a little: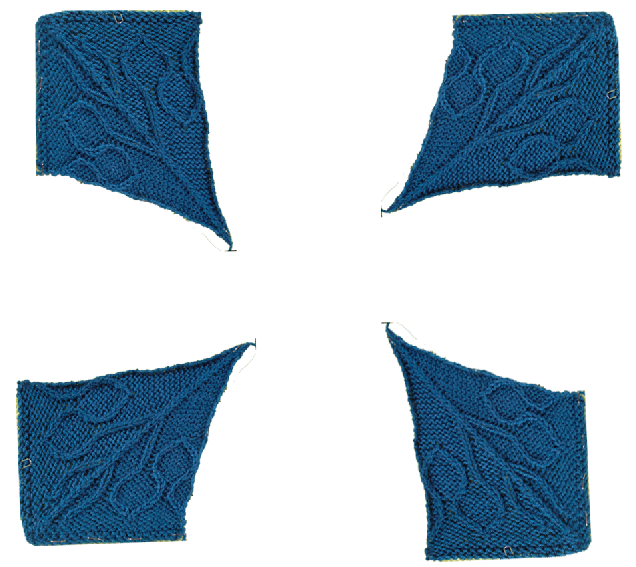 That's the general idea, anyway.
I've been working on the blanket steadily for about a week now, and here's what I have to show for it: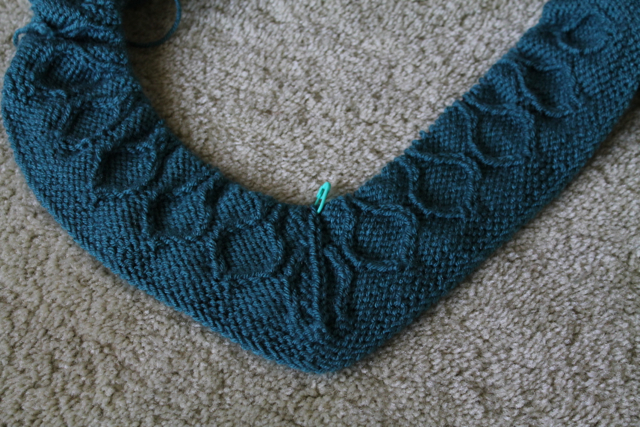 Not very impressive, is it? But when you consider that the CO had 664 sts…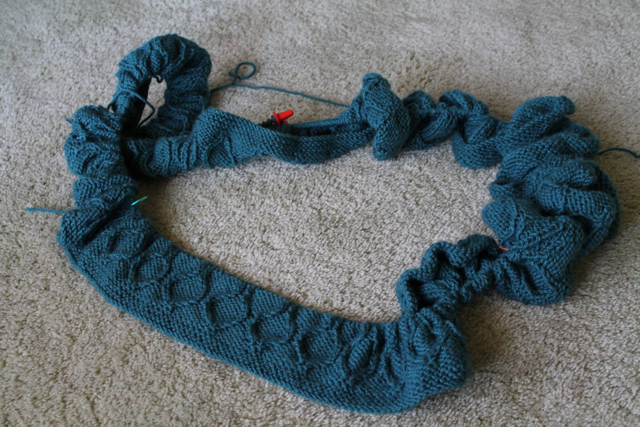 I could possibly use a longer circular needle.