Friday Roundup: I'm Back!
What I'm Knitting
I missed posting last week while on vacation, but I'm back home as of a few days ago and settling back into the routine! Thanks to a road trip from the Seattle area to Sacramento, CA, I managed to finish most of a little nautical-themed pullover idea I've had brewing for a while: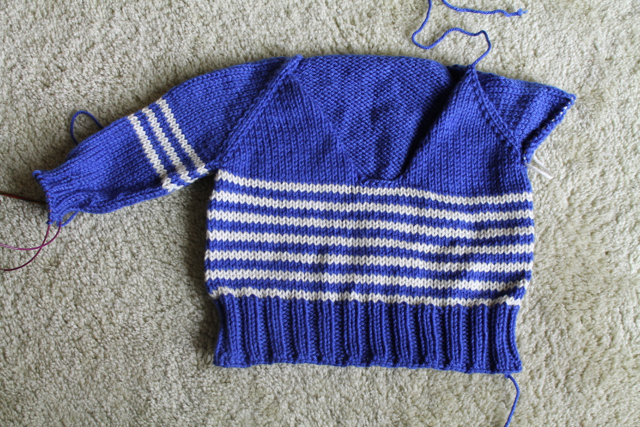 I would have finished the whole thing, but I only brought one ball of the blue yarn, thinking I'd never get through that much with the little one to worry about. Oh well, now that I'm back, hopefully I can get it wrapped up this week. It just needs the second sleeve and the shawl collar, so not too bad.
We stopped in another lovely little yarn shop on our travels and I managed to score another couple of great skeins…but our suitcases were overfull, so I had to have those shipped. Hopefully I'll have them by next week!
What I'm Cooking:
I actually cooked quite a bit in Sacramento, but I forgot to get pics (and it was mostly my old standbys that I've shown a few times here already, anyway). My son's favorite food right now is my vegan broccoli "cheddar" soup, so I whipped up a big batch of that for his first birthday party last week. It was a hit!
Now that I'm home, we're about to go on an epic grocery shopping trip and much cooking will commence. I always feel like I need to detox after a vacation—anyone else feel that way too?
What I'm Reading:
My husband and I have been fans of Allie Brosh's Hyperbole and a Half blog for years, so I had to get him this book version for his birthday. I got to read it when he was done. It's just as funny as the blog! I was reading it on the plane with my son sleeping on my lap, trying not to laugh too much and wake him up.