What I'm Knitting
I hoped to have a finished hat to show off today, but alas, that was not to be. Because the cable motif came out nearly a full inch shorter in the hat than in the swatch (??? I still don't understand how that happened—same needles and everything!), the top decreases have been giving me fits. Here's where I am now, after I ripped back to the start of the decreases for the fourth or fifth time: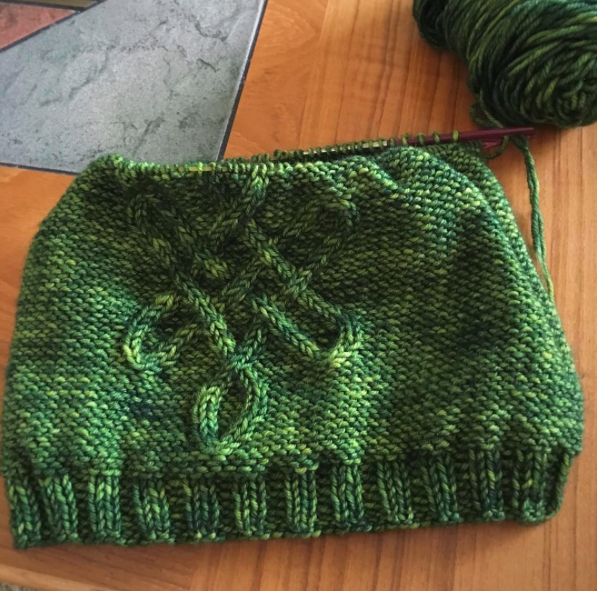 I think I've finally come up with a solution that will work, so stay tuned to see if it does!

What I'm Cooking
Quinoa, black bean, and corn stuffed peppers (adding avocado on the top definitely kicked them up a notch. SO GOOD.):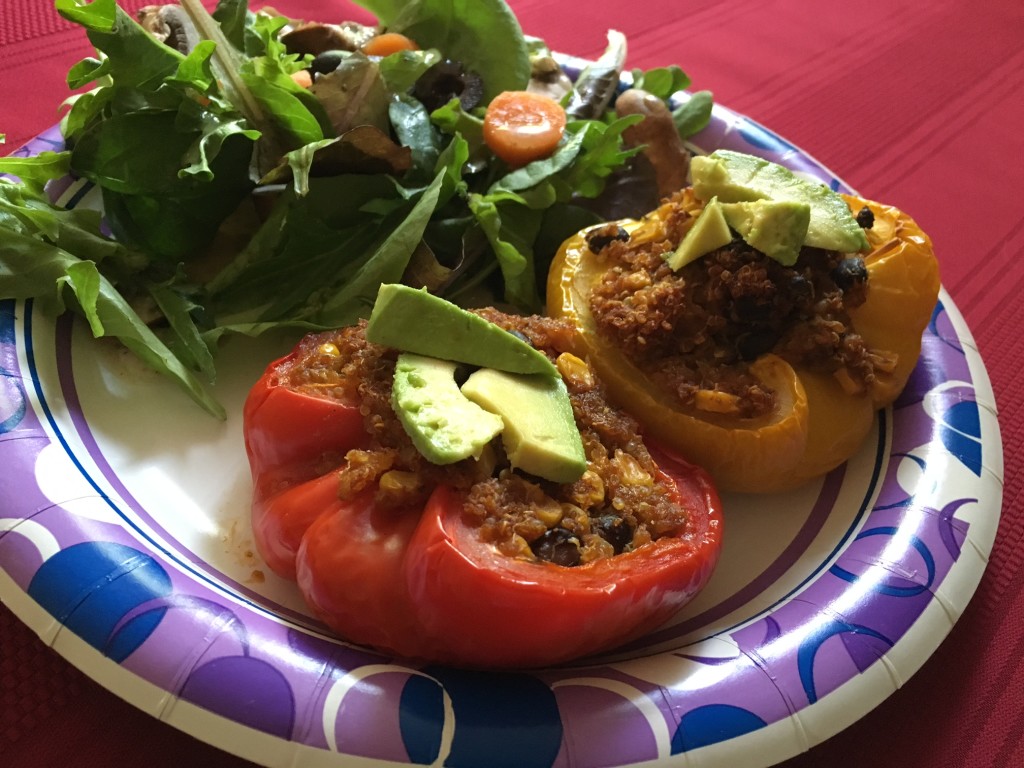 I had a craving for buttermilk-style biscuits at the beginning of the week. I haven't had many cravings, despite being nearly 28 weeks pregnant… but when one does strike, LOOK OUT. I began assembling my ingredients to make some yummy vegan biscuits, and then nearly cried when I realized we were completely out of almond milk, soy milk, or any reasonable substitute.
Cranky pregnant woman wanted her dang biscuits, so I improvised with the thin liquid from a can of coconut milk and crossed my fingers. Turns out adding more fatty liquid makes biscuits even more tasty—who knew? (Although I feel like I could have predicted this.)
They weren't very pretty, though. Well, I take that back. They were gorgeous if all I show you is this shot: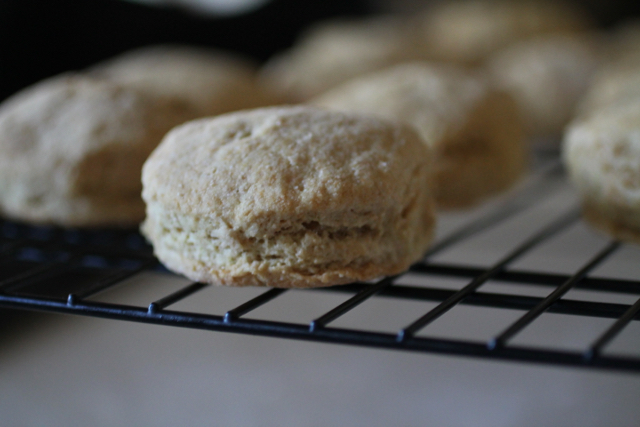 But that was actually the only one that came out looking like someone over the age of 5 made it, haha.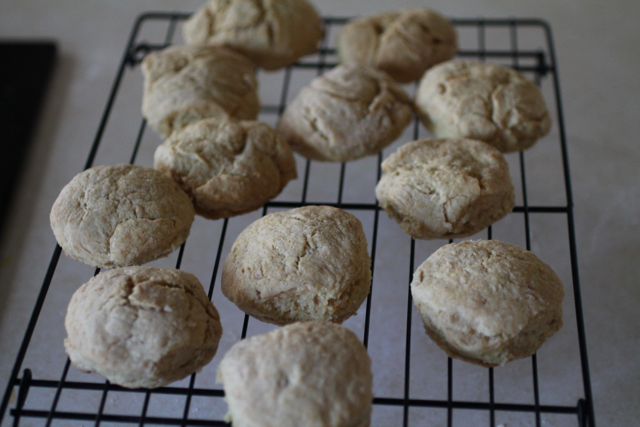 What I'm Reading
I finished Masterminds, which was great but had a killer cliffhanger ending! So I picked up the next one in the series, which is just as good so far. Hopefully this one doesn't do the same type of cliffhanger, because the next one isn't written yet…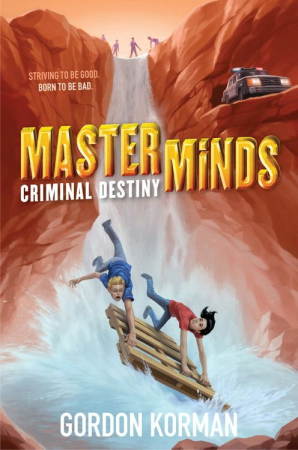 What I'm Knitting
There's been a whole lot more secret knitting this week—but my secret projects are getting closer to completion, so hopefully I'll be back to things I can show you next week! I did manage to take this pic of my two WIPs at the moment, which explains why my fingers are so confused right now (that's light fingering on US #2s and super-bulky on US #15s!):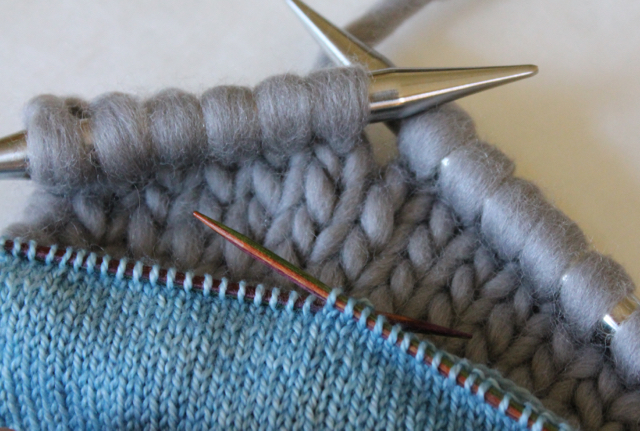 Oh, and I wanted to mention two other knitting-related things. First, I finally took the plunge and started an Instagram account! I'm @trionadesigns if you want to connect with me there. I'm posting fun pics of what goes on behind the scenes around here (which often involves a lot of toddler wrangling), as well as sneak peeks of upcoming designs and things I find inspiring.
Secondly, I'm planning to raise prices on my patterns slightly on Ravelry next week (after the 15th of the month). Most of my garment and accessory patterns are currently priced below the average, and I've been meaning to raise them a little higher for a while now to bring them more in line with current costs of production (which include editing, photography, and so on). I'm proud of the work that goes into my patterns and want the price to reflect that!
So if you've been meaning to purchase any patterns from my Ravelry store, you can take advantage of the advance warning and save a few bucks this week. :-)
What I'm Cooking
Well, this is embarrassing… I didn't cook anything worthy of photographing this week (meaning, nothing entirely from scratch). Thanks to a few late work nights for me and the hubby, we did more than our usual share of picking up food or cobbling together quick dinners from frozen or convenience-type ingredients. I'll try to be better about it next week!
What I'm Reading
Okay, definitely saved the best for last. One of my very good friends had her debut novel come out this week, The BFF Bucket List! I preordered it, so it arrived a day before the release date and I've been happily reading it ever since. It's so good! She has a knack for writing books for tweens that make me really remember what it was like to be that age. You can pick up this book for yourself or your tween friends/family members from your local big bookstore or Amazon.com. You won't be disappointed!