What I'm Knitting
I had a pattern (actually, two) released in a magazine this week! This is the Hoot Sweet Hat and Mitts, published in Love of Knitting, Fall 2016 issue:
The magazine is available for purchase online here.
Since this set is sized to fit toddlers to big kids, it's worked in an easy-care yarn, Berroco Vintage Chunky. I've worked with this yarn before and love how soft it is! I think the owl motifs look so cute in the chunky yarn, and as a bonus, these accessories are really quick to knit.
These were some of the secret projects I was working on at the end of last year. It's so nice to finally be able to show them off! I still have at least three more waiting in the release queue, so stay tuned…
What I'm Cooking
I missed getting pictures of the yummy curry I made for my weekly meal for a crowd this week, but I did manage a shot of these banana/walnut/oatmeal cookies. I don't usually make an effort to bake gluten-free treats, but these were quite good! My son liked them a lot, although he refused to believe that they were cookies and insisted on calling them muffins.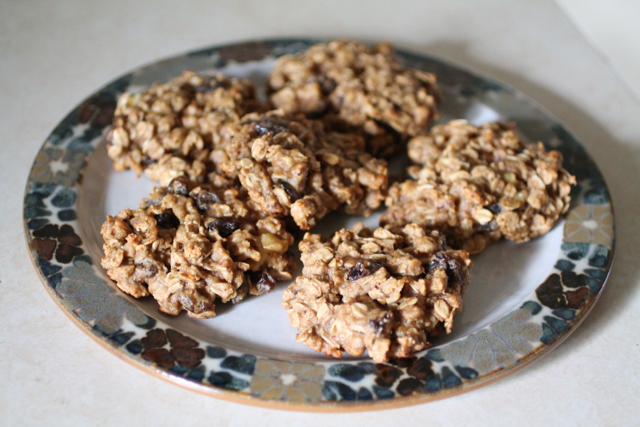 What I'm Reading
I'm about to start The Morrigan's Curse by Dianne K. Salerni. It's the third book in a series I've really enjoyed so far, so I have high hopes!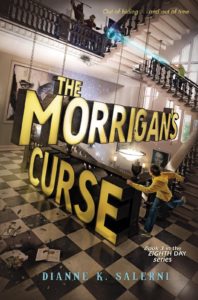 No Friday Roundup post this week, because I'm currently on the way to the National NeedleArts Association (TNNA)'s annual summer trade show in Washington, DC! I'm going to get to hang out with designer friends, talk to yarnies, and generally enjoy myself.
I got some new business cards for the occasion: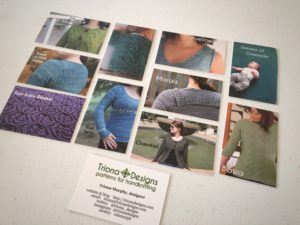 I'll try to get some pictures to show off next week!
What I'm Knitting
I finished the cabled hat and even managed a photoshoot! (It was a bit of a chore to go through and crop out the 6-months preggo belly on all the pictures, though!)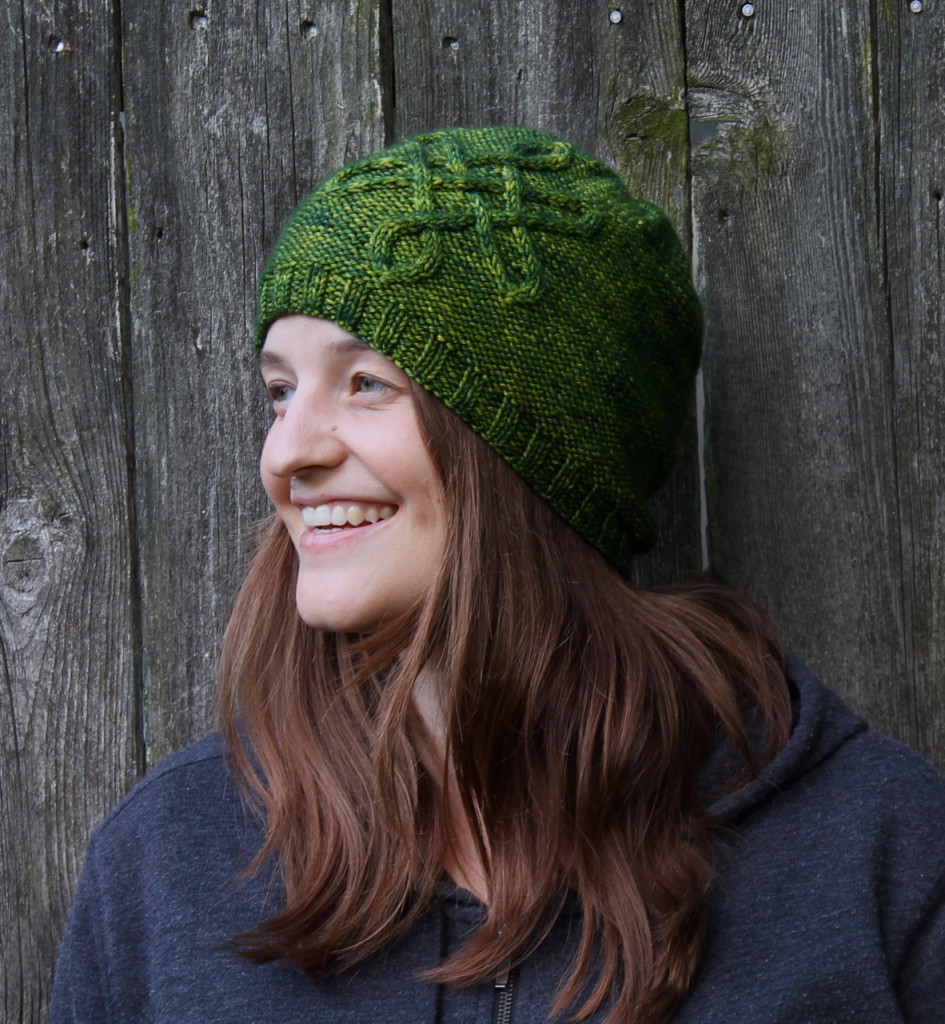 Here are the specs!
Pattern: My own, currently titled "Tierney Hat," although that may be subject to change. I have it up for testing now, so hopefully I'll have the pattern released in about three weeks.
Yarn: Madelinetosh Tosh DK in Jade. I looooove this colorway. It's probably one of my top three desert-island colors. And the Tosh was so nice to work with that I didn't even mind all that purling!
Notes: My original concept was for a mostly simple and basic hat with a pop of visual interest (and interest for the knitter!). I had to fiddle with the closed-loop cable a bunch to get it to work out the way I wanted, but I'm really happy with the way it came out!
I'm back to working on secret projects next week, but hopefully I'll have something I can show off by next Friday!
What I'm Cooking
Some overripe bananas inspired me to make these tasty banana-walnut muffins this week (sometimes I think 90% of my baking is inspired by overripe bananas, haha):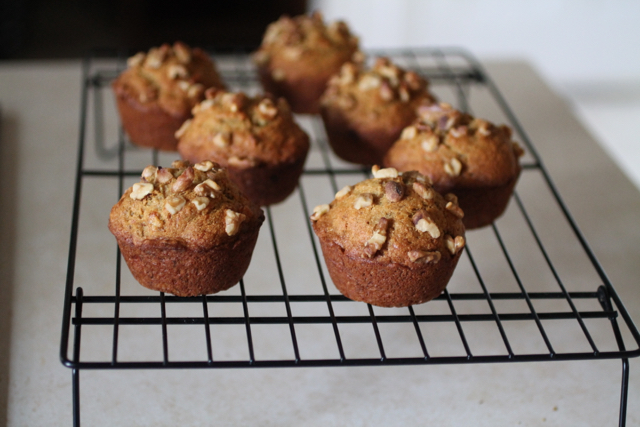 And although the picture is nothing to write home about, the Pad Thai I made for my weekly meal-for-a-crowd came out awesome! I finally got the timing just right so the rice noodles were perfectly done, something I've had trouble with in the past.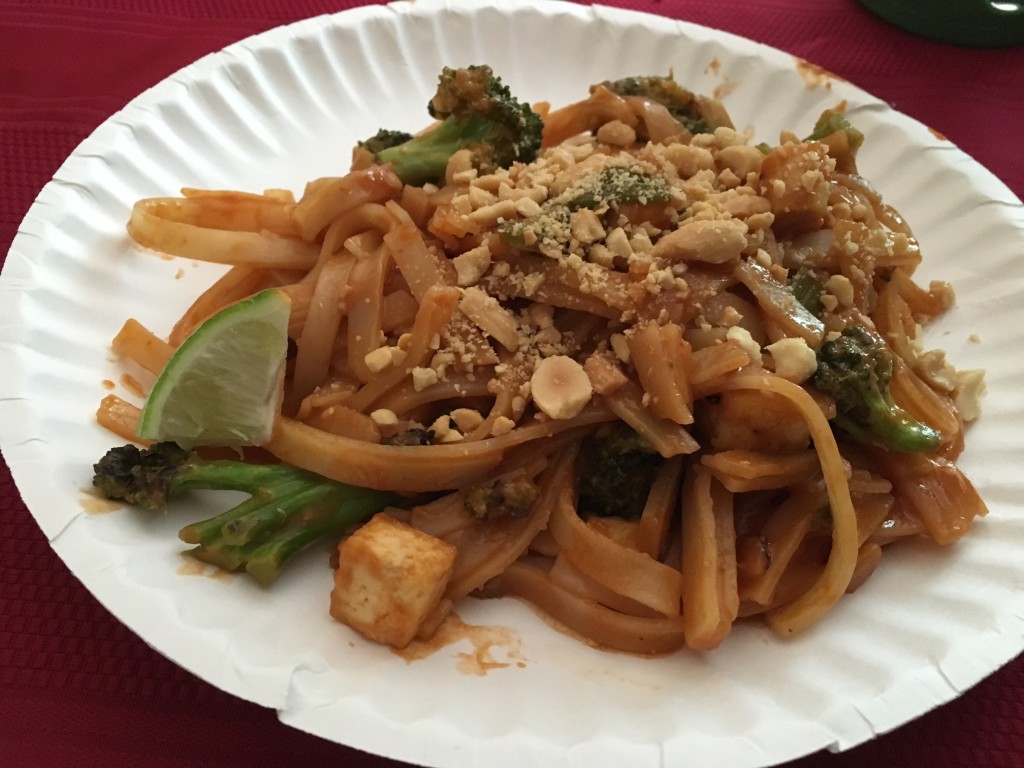 What I'm Reading
I finished the second book in the Masterminds series last night. This one ended on a huge cliffhanger just like the first one, grrr! So since I have to wait for the next one to be released, I picked up another Gordon Korman book from the library, one that I've seen recommended quite a bit as being a very funny middle grade novel.