Less than a day after my last blog post, I finished a very long-term project: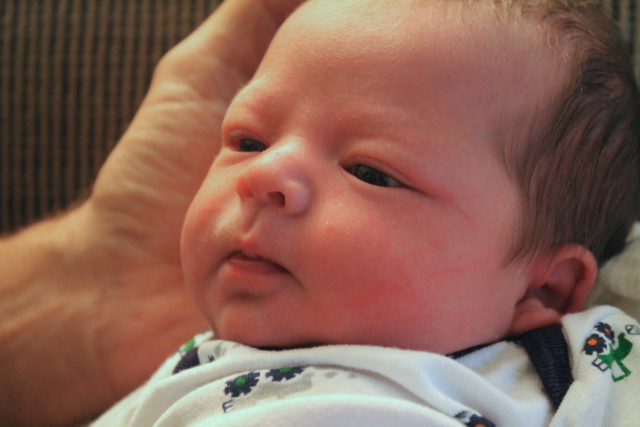 It's a boy! (So much for my very girly knit top design, haha. I'm going to have to find another little model, I think.)
Milo Murphy Cahill was born in a wonderful, very peaceful water birth on Saturday morning. He was a very respectable 7 lbs, 11 oz and 20.5″ long despite being over a week before his due date. Big brother has been amazing with him and we're all completely besotted.
Milo's having fun testing out all his new facial expressions:
What I'm Knitting
The baby blanket is blocking, woohoo!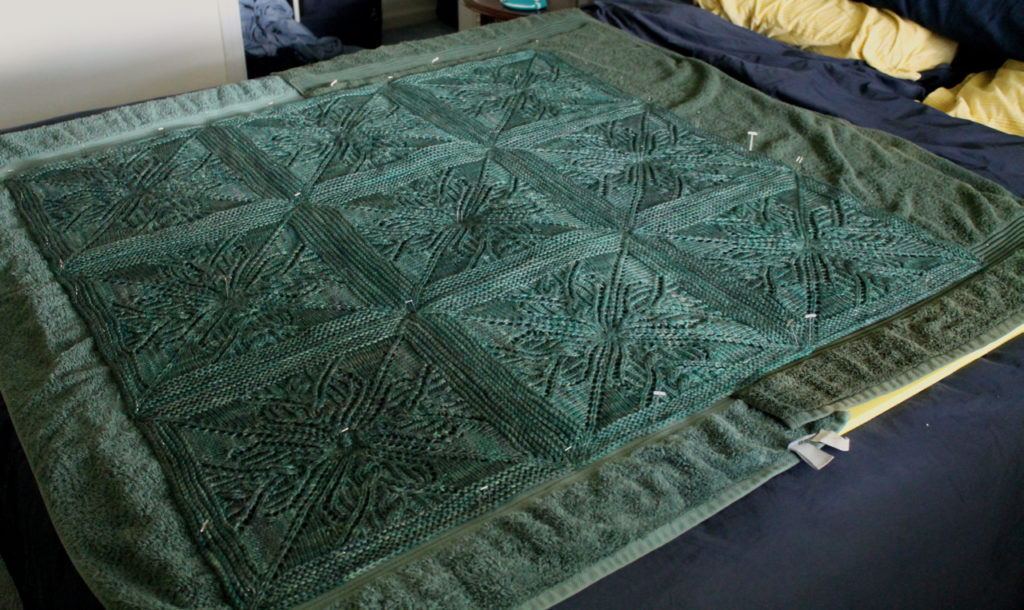 And let me just say that wet-blocking a blanket at 38.5 weeks pregnant is not for the faint of heart, yo. But I managed. I'm soooo happy to have the knitting and finishing done on this one. I only ended up using about 5.5 skeins of Malabrigo Rios, which is about what I'd use for a sweater, but somehow it seemed like so much more.
My little model should be along within the next few weeks, so expect modeled pictures sometime in the near future. :-)
What I'm Cooking
This week's meal for a crowd was something I haven't tried for a while: enchilada casserole (also known as Mexican lasagna). I tried a new recipe that came out really, really well! Pardon the craptastic phone picture, but trust me—it was delicious.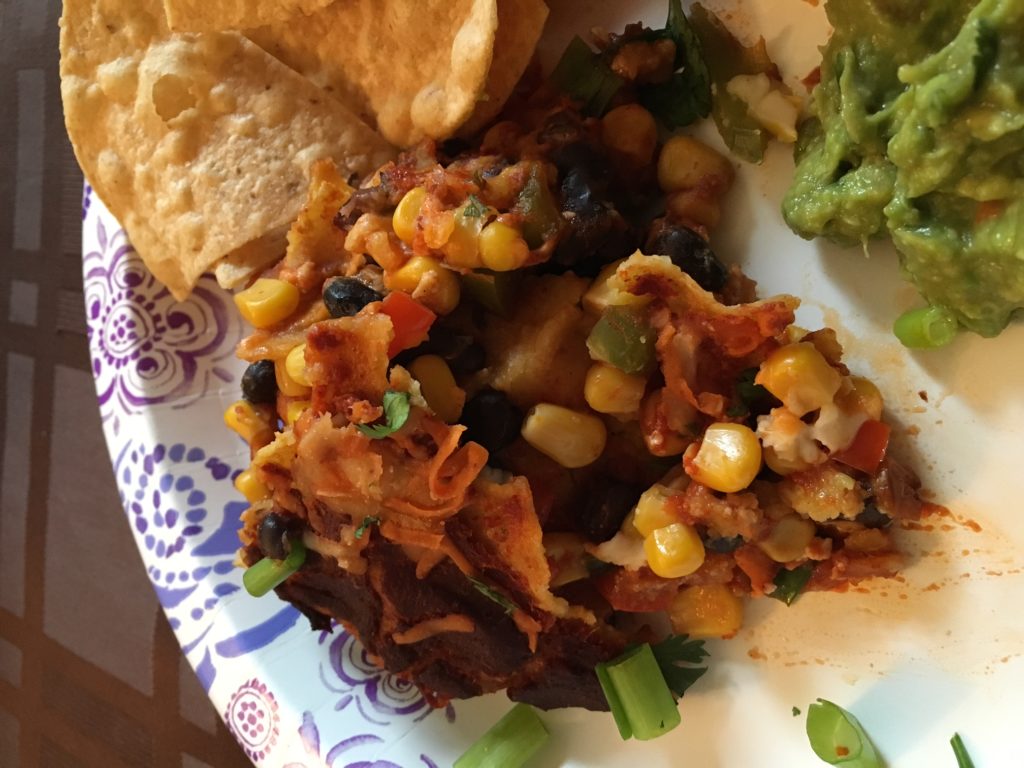 I also made some banana/oat/blueberry muffins. I don't think I'll ever get tired of these.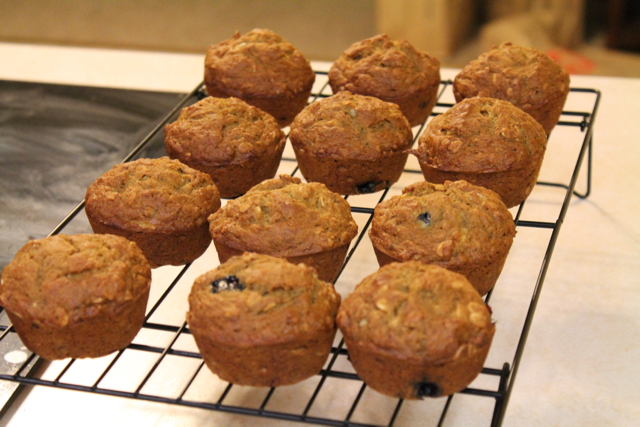 What I'm Reading
I'm focusing on writing middle grade fiction right now (for roughly ages 8-12), so I'm trying to read some of the more popular MG books I've missed over the past few years. I started Princess Academy last night and am enjoying it so far! The setup is great.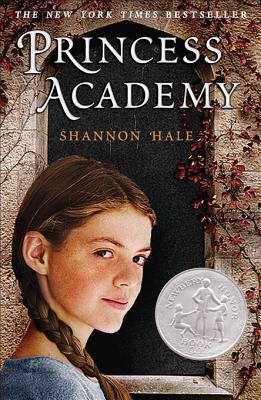 What I'm Knitting
I'm at the finishing stage for both the cable/lace baby blanket and the little baby top, yay! But instead of showing you those this week, check out my newest pattern release.
This is the Sprague Lake Pullover, my first adult sweater release in a little while: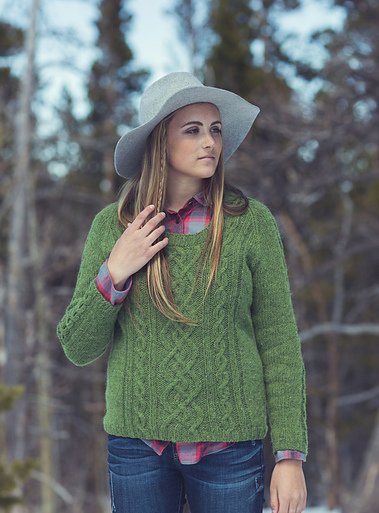 This sweater was released in a special preview collection of the Interweave Knits Fall 2016 issue. You can check out the four patterns in the collection here, or purchase this pattern individually for $5.50 here.
My intention with this sweater was to create a traditional Aran-type sweater with some modern updates. You'll notice it has closer shaping than many of the more boxy cabled pullovers, a flattering scoop neck, and some fun twine-y cables. It was a lot of fun to knit!
What I'm Cooking
Aside from yet another batch of lentil-quinoa-kale stew (can't get enough of that stuff right now!), I also took another stab at perfecting vegan, gluten-free mac and cheese. This one was enhanced by the addition of GF seasoned breadcrumbs and some toasting time in the oven. I thought it came out pretty well!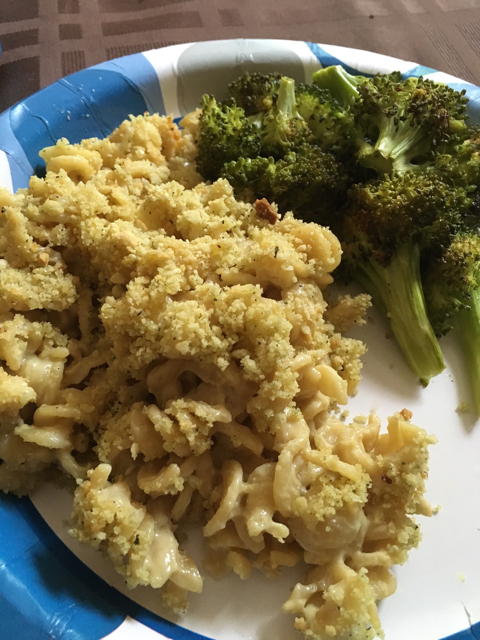 I'm coming into the home stretch on baby incubating (due date is in less than three weeks!). I was hoping to get some meals made and into the freezer. Stay tuned to see if that actually happens….
What I'm Reading
Like virtually everyone I know, I picked up a copy of Harry Potter and the Cursed Child rehearsal script this week. I finished it last night and have to say that I really enjoyed it! I think people expecting a "real" eighth Harry Potter book were sorely disappointed, but I was viewing it more like bonus material, so I wasn't at all. Two thumbs up from me!