Write a dating profile for one of your past finished projects.
Introduction: Mature, well-loved blanket seeks people who like to cuddle.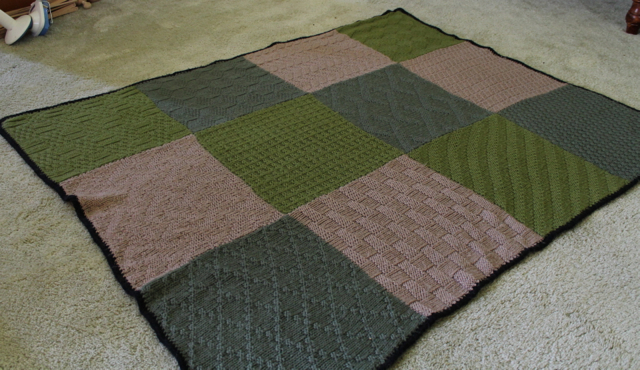 I was made all the way back in 2006 when my creator had less than a year's knitting experience. She heard her beloved Mission Falls 1824 Wool was being discontinued and snapped up twelve skeins on clearance.
And okay, Mission Falls doesn't necessarily hold up so well over eight years of heavy use and many trips through the washing machine and dryer.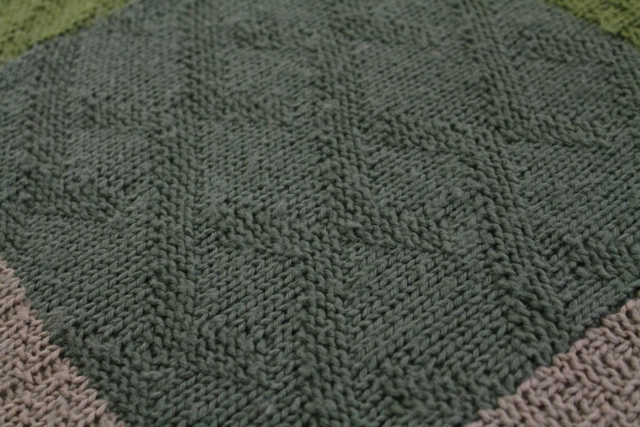 Character. I have lots of character.
Interests: I was created over a period of about a month as my knitter discovered what would become her favorite show, Stargate SG-1. So now my friends call me the Stargate blanket.
I also have a fondness for crochet, since my knitter learned how to crochet to make my edging: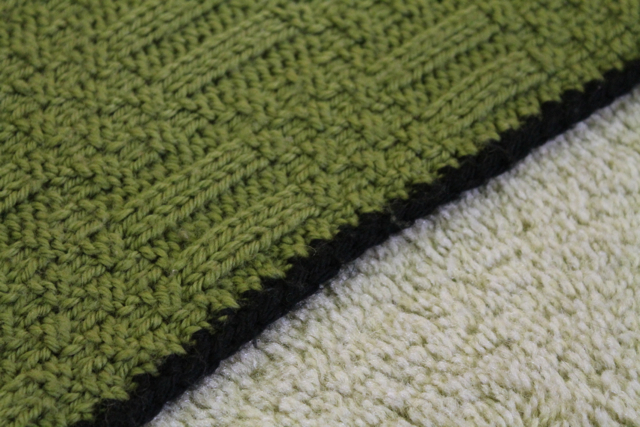 Dislikes: Now, I wouldn't say I dislike this guy exactly: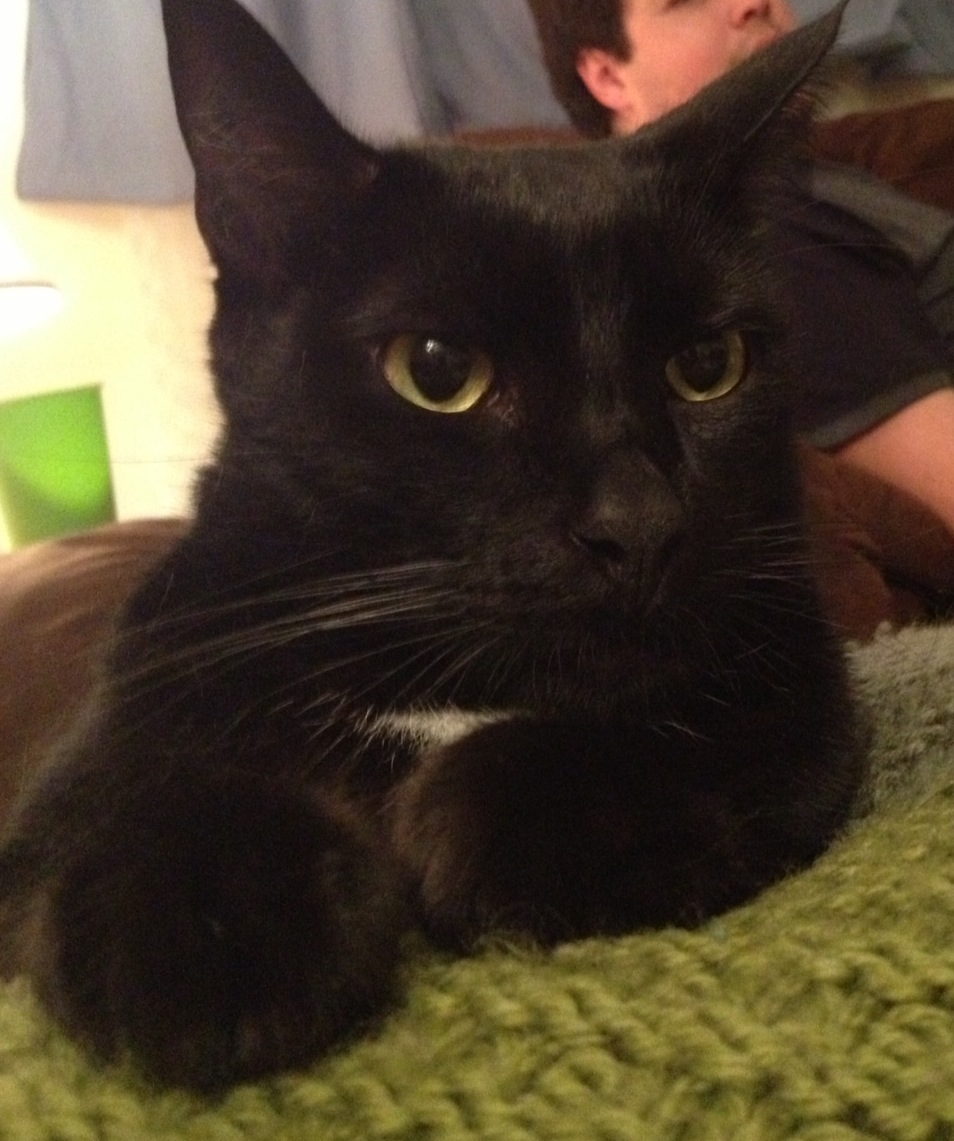 But when he gets too comfortable, the kneading can get out of control. I'm just saying.
The Future: I have a sneaking suspicion that I'm going to be getting pretty cozy with the new baby arriving in a few months. I'm soft and just the right size for floor time and snuggling.
Plus I have it on good authority that I make a pretty good superhero cape: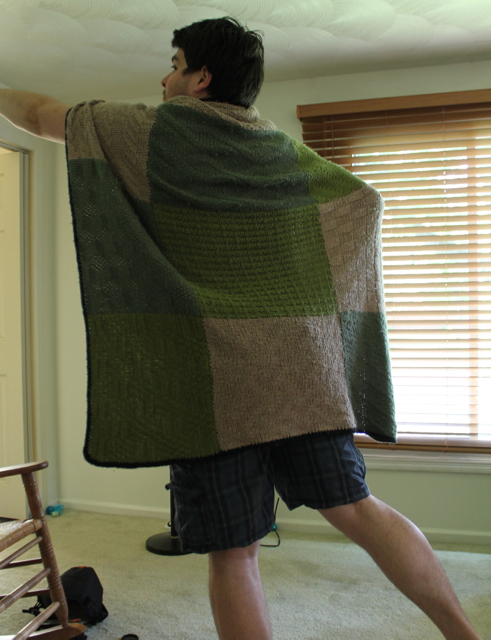 I'm delighted to be a stop on the blog tour for Hitch: Patterns Inspired by the Works of Alfred Hitchcock!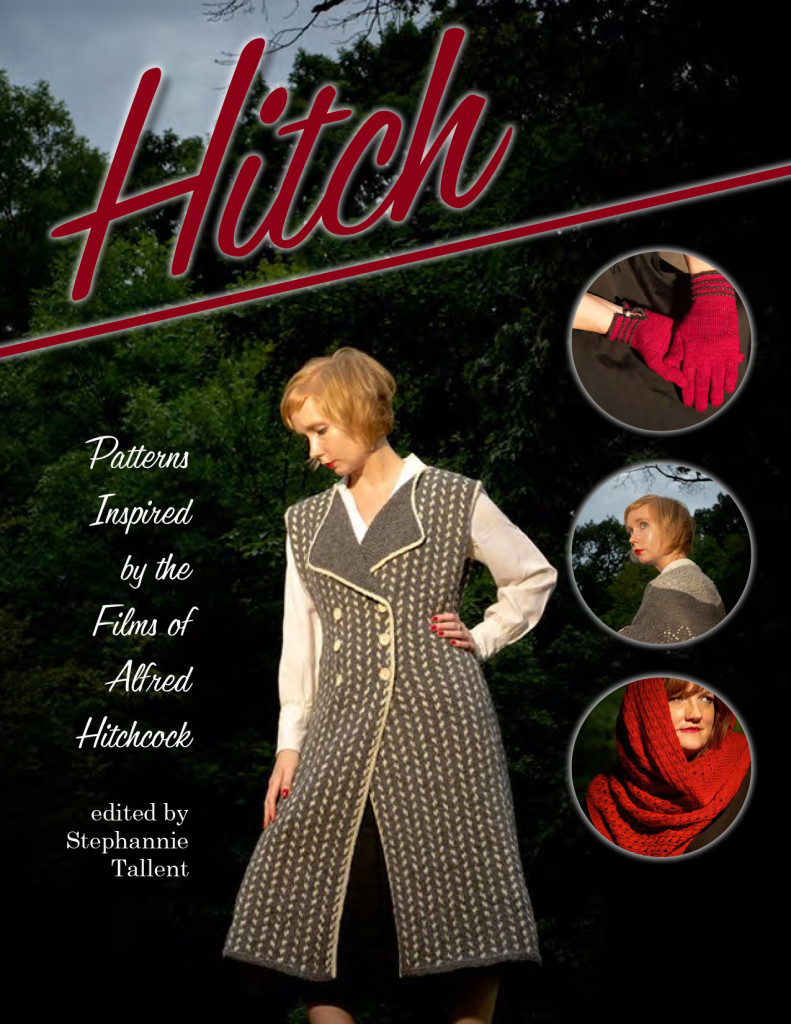 The book is now available in both print and digital (PDF) formats. If you haven't had a chance to check out the patterns in the book, you can see images at the link above or on the Ravelry page for the book here. The patterns and styling for the book are, in a word, stunning.
My pattern in the book is the Francie Scarf: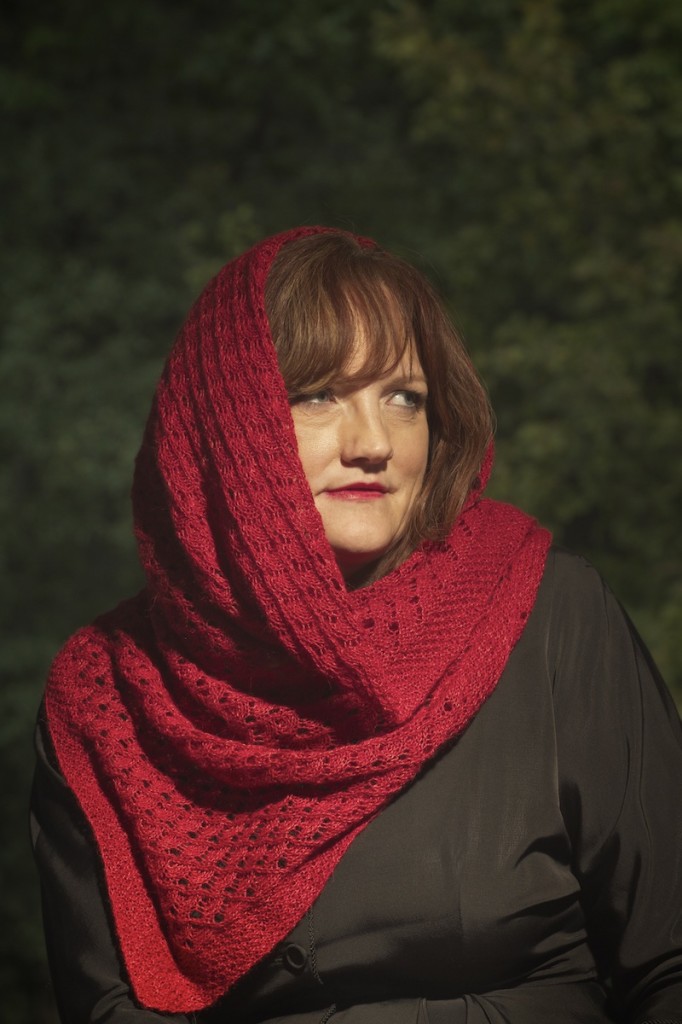 I was so excited to have the chance to contribute to this book. While I wouldn't call myself a die-hard Hitchcock fan, I am a huge Grace Kelly fan. She epitomizes style, and, well, grace in every movie.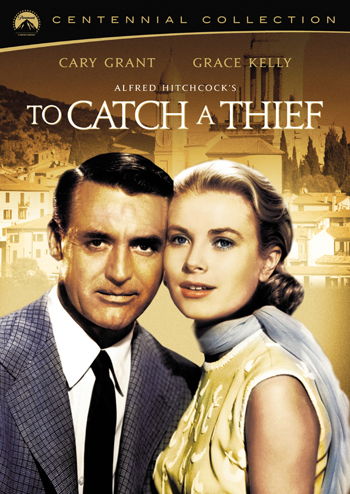 Inspired by the above promotional shot from To Catch a Thief (definitely a contender for my favorite Hitchcock movie) and many shots of Grace Kelly in gorgeous headscarves, I decided to propose one for the book.
Now, this was definitely out of my comfort zone. If you've been reading this blog for a while, you probably know I tend to stick to sweaters, hats, and mittens, not shawls or lace scarves. Because of this, I knew I didn't want to make the headwrap too complicated. I decided on a square shape (since this would be most conducive to folding) with no shaping.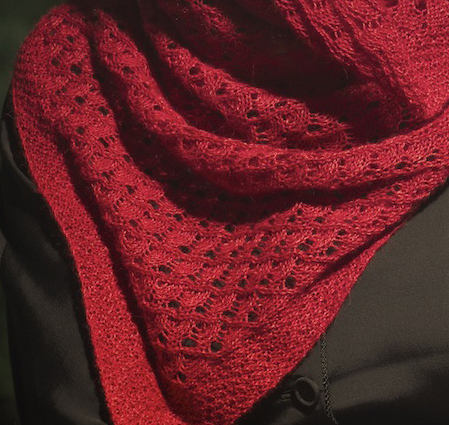 The lace pattern is simple enough to memorize quickly, but it still requires attention and thus keeps the knitter's interest. The yarn I used, Tactile Fiber Arts Larkspur Lace, is a scrumptious blend of alpaca and silk. The Pomegranate colorway I used just glows. Check out these amazing other colorways Larkspur Lace comes in: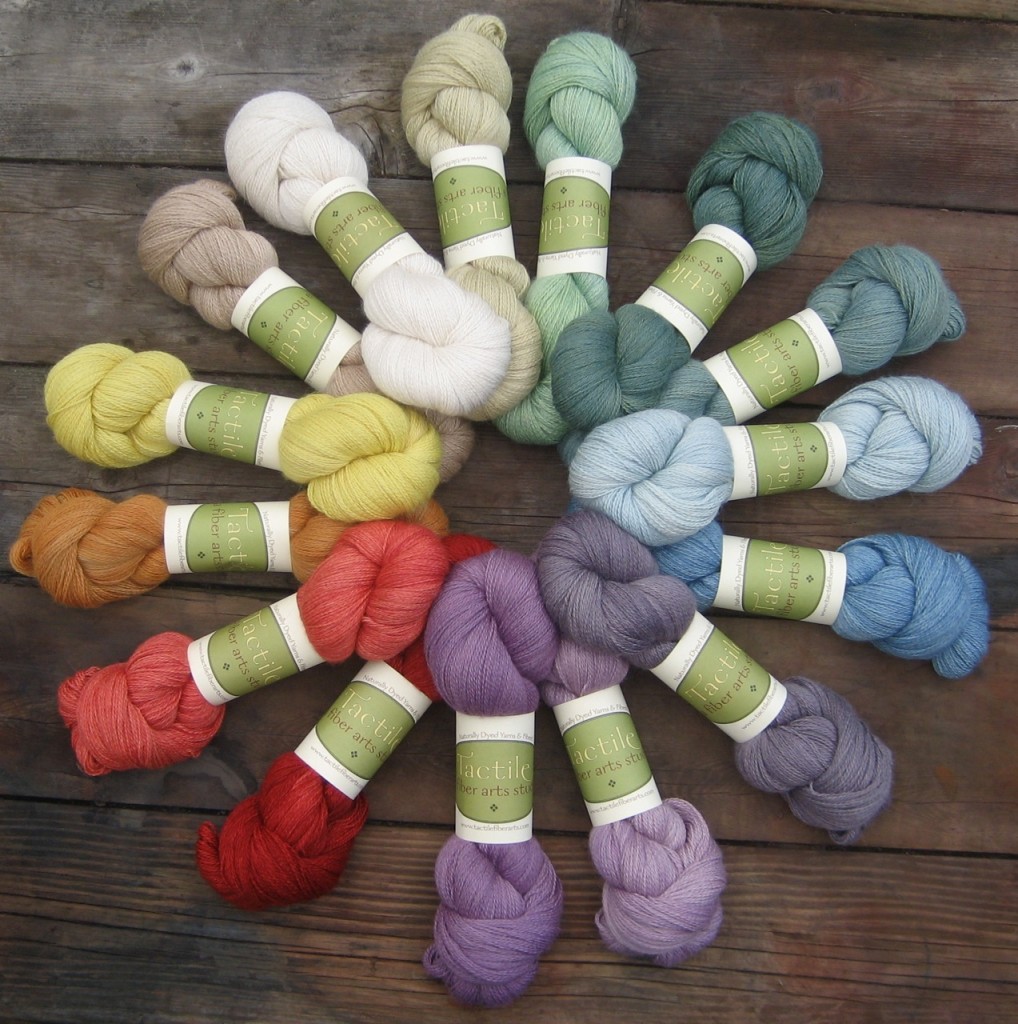 The finished piece is light and airy, perfect for scrunching up and wrapping around the neck, or for folding and wearing over the hair. It would be a great piece to pack when traveling, since it provides just a bit of extra warmth and a pop of color against a neutral outfit.
I like to think Ms. Kelly would have approved. :-)
Make sure to check out the rest of the blog tour for fun behind-the-scenes info:
9/28/2013: Sunset Cat Designs
10/5/2013: Knitting Kninja
10/5/2013: Knit One, Heart Too Podcast
10/7/2013: Herrlichkeiten
10/8/2013: Knit and Travel
10/9/2013: Knit & Knag Designs
10/10/2013: Wooly Wonka Fibers
10/11/2013: Verdant Gryphon
10/15/2013: Impeccable Knits: Shifting Stitches
10/16/2013: Rewolluzza
10/21/2013: Knitwear Designs by Carolyn Noyes
10/22/2013: Peacefully Knitting
10/23/2013: Dark Matter Knits
10/24/2013: Turnknit: Dani Berg Designs
10/25/2013: SweetGeorgia Yarns
10/28/2013: doviejay knits
10/29/2013: Triona Designs You are here!
10/30/2013: Tactile Fiber Arts
11/4/2013: A Knitter's Life
11/5/2013: Catchloops
11/6/2013: Yarn On The House
11/07/2013: Ramblings
11/12/2013: Hazel Knits
11/13/2013: Knitcircus
11/19/2013: indigodragonfly
11/9/2013: Fyberspates
11/25/2013: knittingkirigami
11/22013: A B-ewe-tiful Design