The first prompt in Knitting and Crochet Blog Week asks us to examine four different houses (a la Hogwarts) and choose which one best identifies with our own crafting style.
I chose The House of Monkey, which is described as follows: Intelligent and with a fun loving side, Monkeys like to be challenged with every project presenting them with something new and interesting. 
(You can see the rest of the house choices and their descriptions here.)
It's not so much that I have to have adventure and excitement in my knitting, it's more than I tend to fall in love with projects or design ideas, regardless of difficulty level. Pretty much from the moment I started knitting, I identified myself as an adventurous beginner. If I wanted to make a project badly enough, I'd jump in with both feet and learn how to do any new techniques as I went along.
I got tired of scarves and basic hats really quickly, so about a month in I decided to try some socks. I muddled my way through learning how to use DPNs, how to do a heel turn, and how to do kitchener stitch:
I tried a couple of garments that failed spectacularly, so after about six months of knitting I bought some yummy Berroco Ultra Alpaca and decided to cobble together a bunch of elements from different patterns to create my own unique sweater.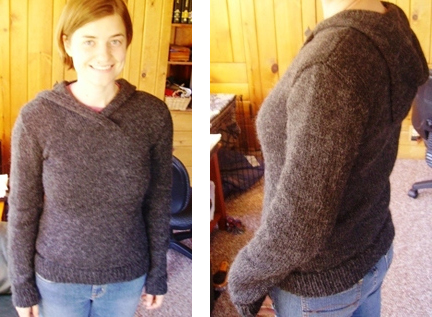 It actually turned out better than I had any right to expect–that is, until I realized the uncontrollably itchy nose I'd had the whole time I was knitting the thing wasn't an oncoming cold, but in fact an alpaca allergy. Sigh. But I digress.
I'm still doing this jump-in-with-both-feet thing in the present day, too. For my newest design, the Concord Grape vest, I fell in love with the idea of knitting the armhole and neck edgings along with the body, so there wouldn't be any need to pick up stitches afterward. To do this, I had to figure out how to do all shaping without interrupting the edging pattern, which meant double and single decreases on the RS and WS of the work–some of which I'd never done before. I'd never knit anything with this construction, but I jumped in anyway!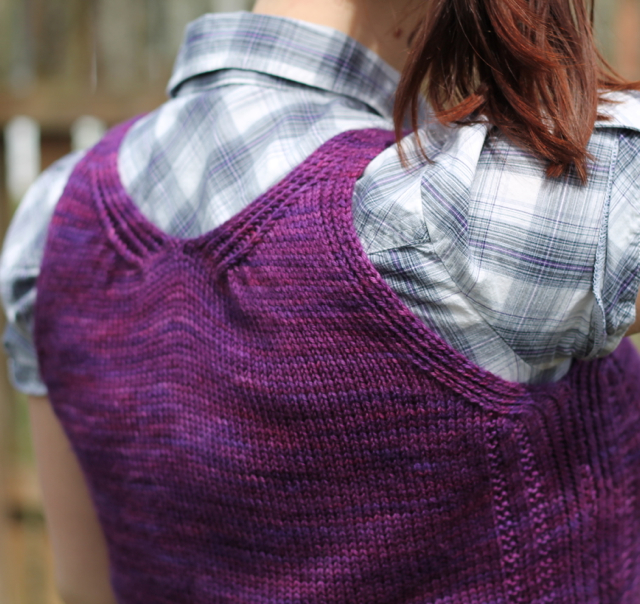 As you can see, it worked out rather well. :-)
I'm pretty happy with my status as a member of the House of Monkey. Knitting and designing like this keeps the whole thing fresh and exciting–which is important when you take into account how many hours a week I spend knitting!