Since I didn't hear back from the winner I picked last week for the Golden Morning book, I went back to the random number generator to choose a new winner: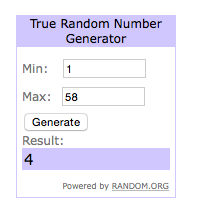 Comment #4 was Sarah, who said "My knitting changes a bit seasonally. I cannot bear to have a pile of alpaca on my lap during the summer. Lace is always a favorite, and laceweight yarn is a staple in my stash. I think I keep my knitting focus on smaller things that will not cover all of me as I knit them, but if they are large, they need to be light."
Congratulations, Sarah! I'm sending you an email to get your address details and the pattern book will be on its way to you shortly.
Now to your regularly scheduled Friday Roundup post:
What I'm Knitting
A secret accessory design I can't show you. I know, I know, I said I was done with these for a while, but a call for submissions that I couldn't refuse came to my attention a few months ago and I got a design proposal accepted. This accessory is small and fun, though, so I should hopefully be back to something blog-able next week.
What I'm Cooking
I forgot to take pictures of the amazing (if I do say so myself) enchilada casserole I made for my usual crowd dinner on Wednesday, but I managed to snap a few pics of other meals.
Basil was on sale at my local grocery, so I snagged a bunch of it to try a vegan pesto dish from my favorite cookbook, Isa Does It. The pesto was tasty, but the real star of this dish is the breaded tofu on top. I've never tried to make breaded tofu before–it was much easier than I thought, and soo00 tasty. My 9-month old son loved it too!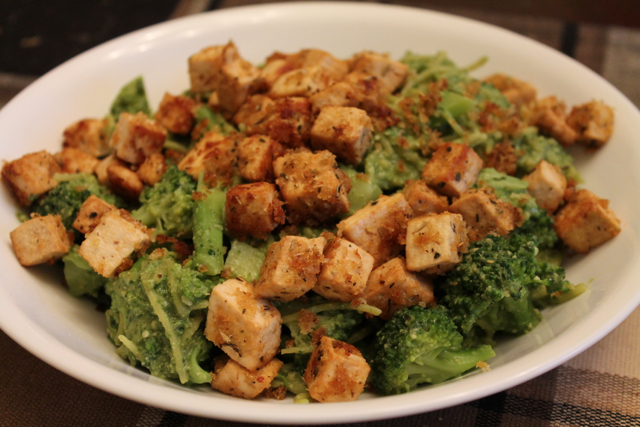 I've never been the type of person who can whip up sauces without a recipe (kind of funny, since one of the first things I did when I started knitting was to go "off-recipe" and start making up my own things!). But I tried a almond-milk based cream sauce last week that was completely tasteless, so I started adding things to it (like miso and nutritional yeast, my favorite vegan flavor enhancers). The resulting sauce was so good that I tried it again this week, with different proportions of ingredients and a whole bunch of veggies.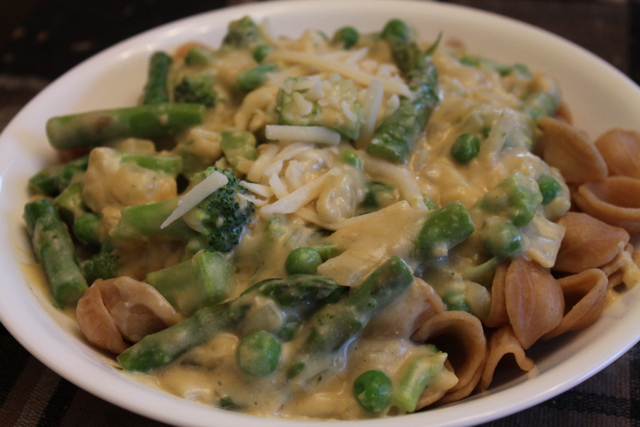 It was amazing. I can't believe how cheesy a sauce can taste with no cheese whatsoever. I think it's the umami flavor (pleasant savory taste) that the miso brings to the table. I have a new favorite sauce recipe that I can tweak to my heart's content! My son also loved this one, even though it was loaded with garlic and onions. He's definitely my son. :-)
What I'm Reading
Not too much to say on this front either–I'm still working on my writer friend's manuscript. Baby's sudden sleep regression = major dent in my reading/knitting time, unfortunately.