I released a new pattern this week! This is Avelina: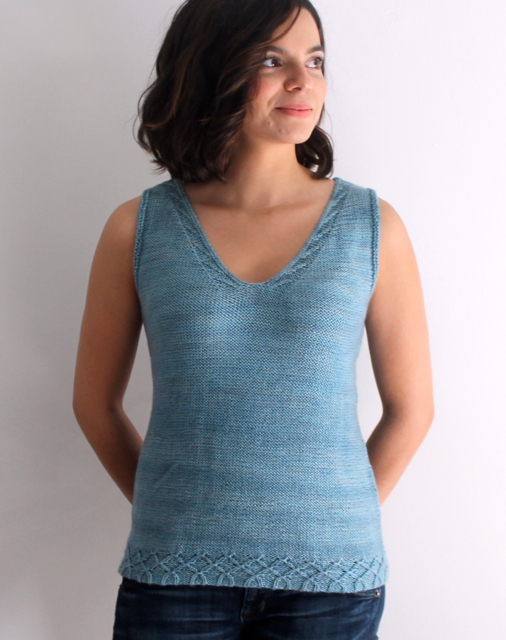 This was one of the secret projects I was working on last winter. I'm so, so happy with the way it came out. I was going for a casual yet easily dress-up-able vibe, with simple details. This is one of the closest picture-in-my-head to actual-FO conversions I've ever done. :-)
The specs:
Pattern: Avelina, available to purchase on Ravelry for $6.00 here (you don't need an account to purchase).
Here's the description from the pattern page:
Clean and modern, this sleeveless top features reverse stockinette with small cable details. The v-neck and subtle waist shaping help it pair equally well with a skirt or jeans.
To minimize purling, the top is worked inside out in the round to the armholes. The neckband is worked right along with the upper body, so the only finishing is sewing the straps together and knitting the armhole edgings.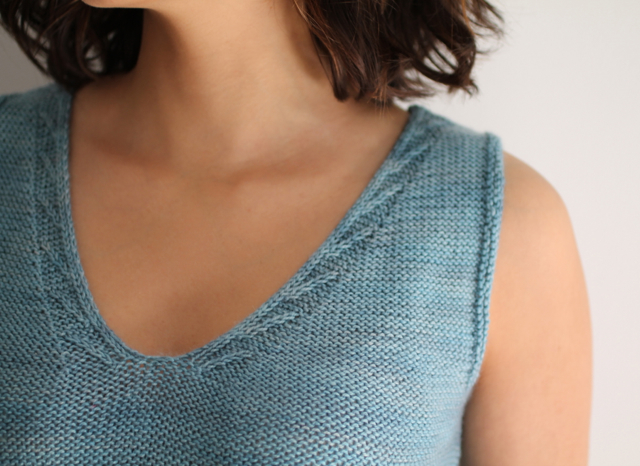 Yarn: I used absolutely scrumptious Baah! Aspen (75% merino, 15% silk, 10% cashmere). I actually managed to squeak by with 2 skeins, but that required unraveling my swatch to knit the armhole edgings, so I recommended 3 skeins for this size. Still an economical project and a great way to get a pretty garment out of just a few skeins of luxe yarn.
Notes: This isn't the first time I've worked a reverse stockinette garment body inside out to the armholes to avoid purling (my Put Together tank has this too). I love this trick! The hardest part for me is remembering to join new yarn on the knit side rather than the purl side. This time I wrote a big reminder in my notes so I wouldn't forget.
I also really like the fact that the back and front neck edgings are worked along with the body. I swatched for a while to find just the right combo of stitches to make the edge look neat and finished–I think it works well!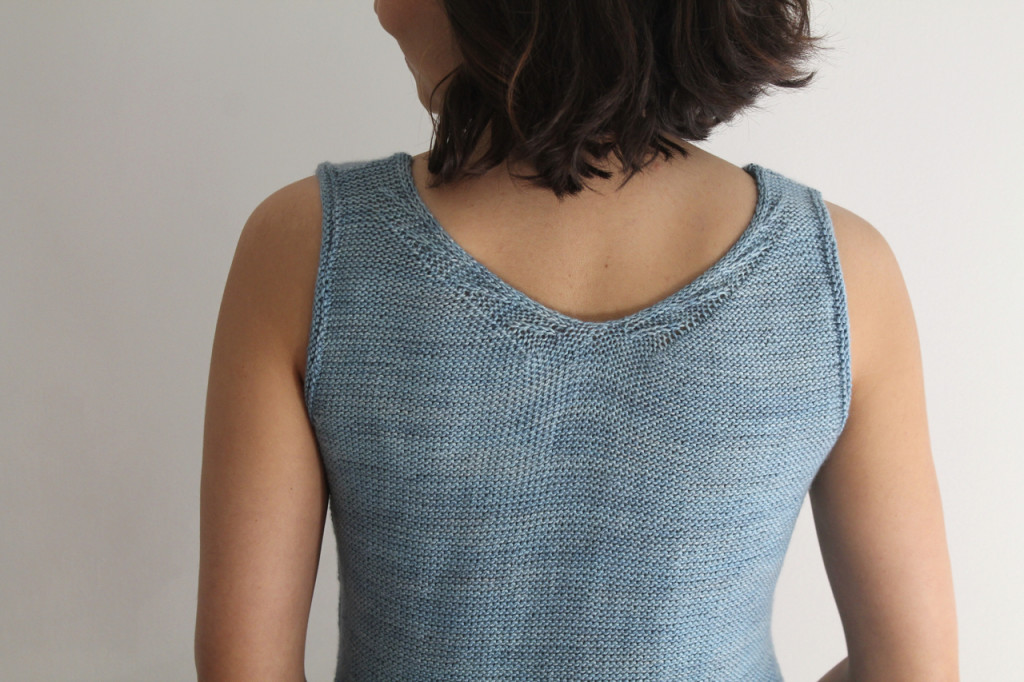 My friend Cheryl did the modeling for me, since I had just had a baby and the top was, erm, rather stretched out in the chest area on me. Luckily it fit her like it was made for her. And she has that gorgeous glowing skin that complements the hand-dyed color so well.
I'm running a 25% off sale on all of my individual self-published patterns for the next month in honor of Madelinetosh May. Just enter the coupon code MADMAY15 in your Ravelry cart at checkout. So if you want to pick up a copy of Avelina, now is a good time. :-)
Oh! And if you live anywhere near the Knitting Temptations yarn shop in Dublin, Ohio, my sample of Avelina will be displayed in the shop starting in a few weeks, so you can see it in person.