What I'm Knitting
There's been a whole lot more secret knitting this week—but my secret projects are getting closer to completion, so hopefully I'll be back to things I can show you next week! I did manage to take this pic of my two WIPs at the moment, which explains why my fingers are so confused right now (that's light fingering on US #2s and super-bulky on US #15s!):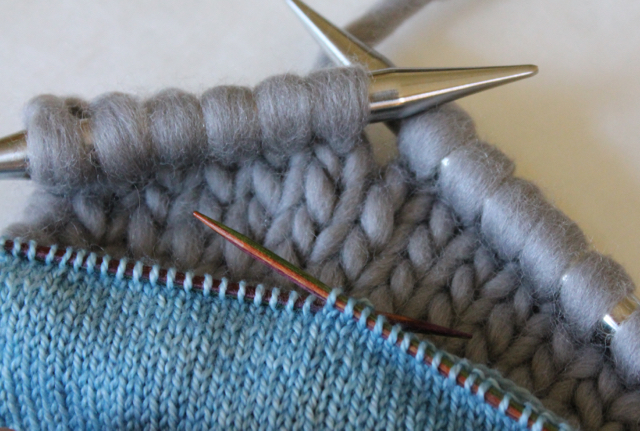 Oh, and I wanted to mention two other knitting-related things. First, I finally took the plunge and started an Instagram account! I'm @trionadesigns if you want to connect with me there. I'm posting fun pics of what goes on behind the scenes around here (which often involves a lot of toddler wrangling), as well as sneak peeks of upcoming designs and things I find inspiring.
Secondly, I'm planning to raise prices on my patterns slightly on Ravelry next week (after the 15th of the month). Most of my garment and accessory patterns are currently priced below the average, and I've been meaning to raise them a little higher for a while now to bring them more in line with current costs of production (which include editing, photography, and so on). I'm proud of the work that goes into my patterns and want the price to reflect that!
So if you've been meaning to purchase any patterns from my Ravelry store, you can take advantage of the advance warning and save a few bucks this week. :-)
What I'm Cooking
Well, this is embarrassing… I didn't cook anything worthy of photographing this week (meaning, nothing entirely from scratch). Thanks to a few late work nights for me and the hubby, we did more than our usual share of picking up food or cobbling together quick dinners from frozen or convenience-type ingredients. I'll try to be better about it next week!
What I'm Reading
Okay, definitely saved the best for last. One of my very good friends had her debut novel come out this week, The BFF Bucket List! I preordered it, so it arrived a day before the release date and I've been happily reading it ever since. It's so good! She has a knack for writing books for tweens that make me really remember what it was like to be that age. You can pick up this book for yourself or your tween friends/family members from your local big bookstore or Amazon.com. You won't be disappointed!