What I'm Knitting
Whew, it was so busy around here last week that I completely missed the last Friday Roundup post, whoops. Oh well, I'm back at it today! I finished all my commissioned design projects, which means for the first time since December(!), I don't have anything on a deadline! Let me tell you, it's a good feeling.
That means I get to go back to my Malabrigo lace and cable blanket—and not too soon, either, since I just hit 32 weeks of pregnancy and really don't have a ton of time to get this thing done before baby arrives.
Although I only have six squares of the planned nine done, I decided to go ahead and try sewing together the four squares that are blocked. After much trial and error, I decided on a slip-stitch crochet seam: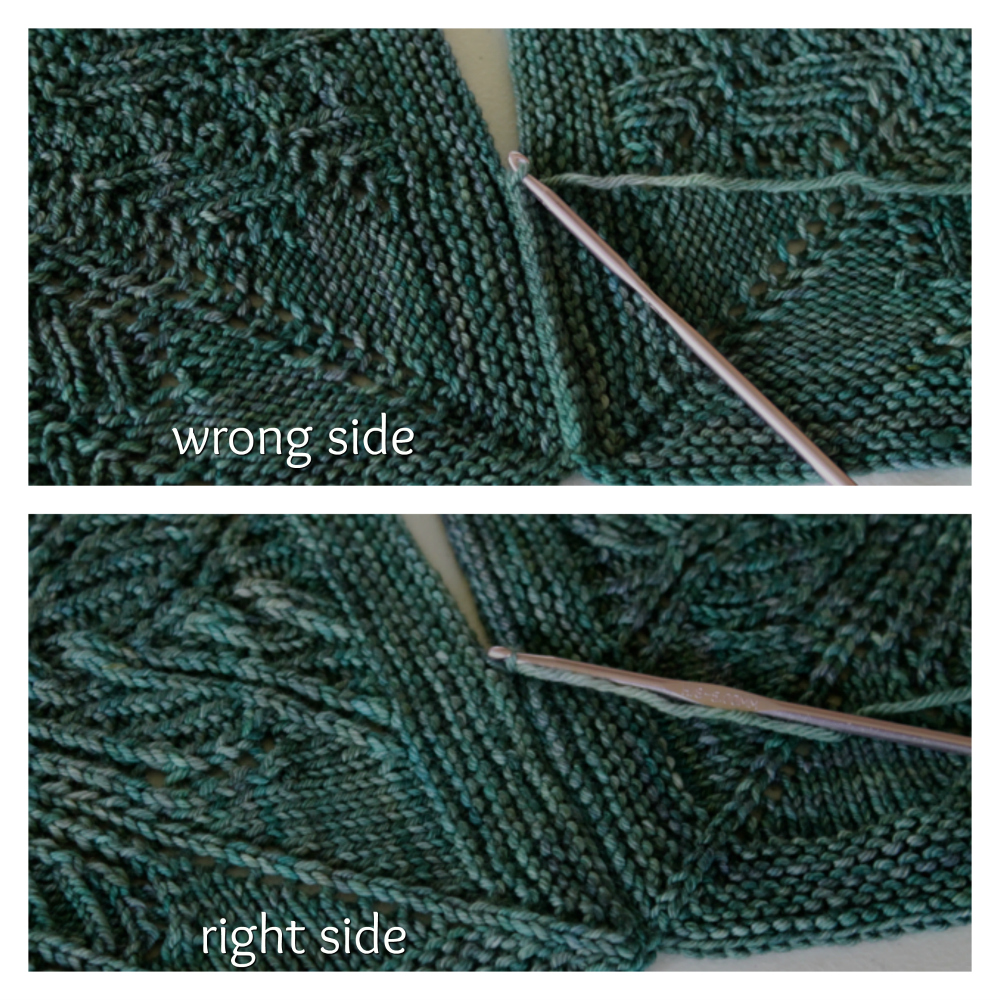 I think that'll work nicely, and as a bonus, it's not terribly annoying to work. I've cast on for the seventh square, so hopefully I can get at least that done by next Friday!
What I'm Cooking
I've been trying to incorporate more dark leafy greens into my diet recently, since they're so good for baby. My go-to quinoa, lentil, and kale soup was extra delicious this week. I'm pretty sure I didn't do anything differently than usual though—maybe I just really needed the nutrition?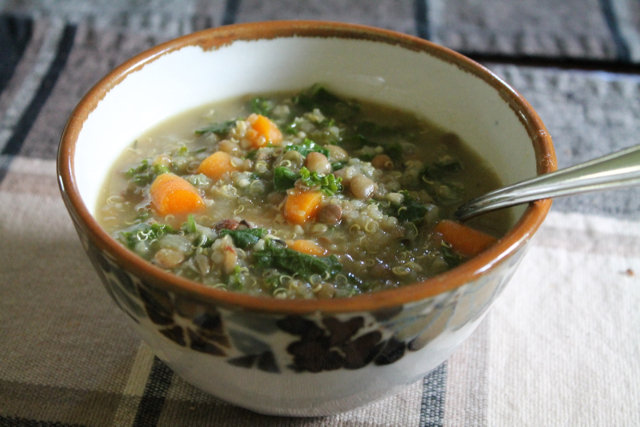 For my weekly meal-for-a-crowd, I took another stab at a recipe that didn't come out perfectly the last time I made it, a vegan lasagna with spaghetti squash in place of the noodles. This time I nailed it. I had several people checking to make sure it didn't have dairy or gluten, because it was that tasty.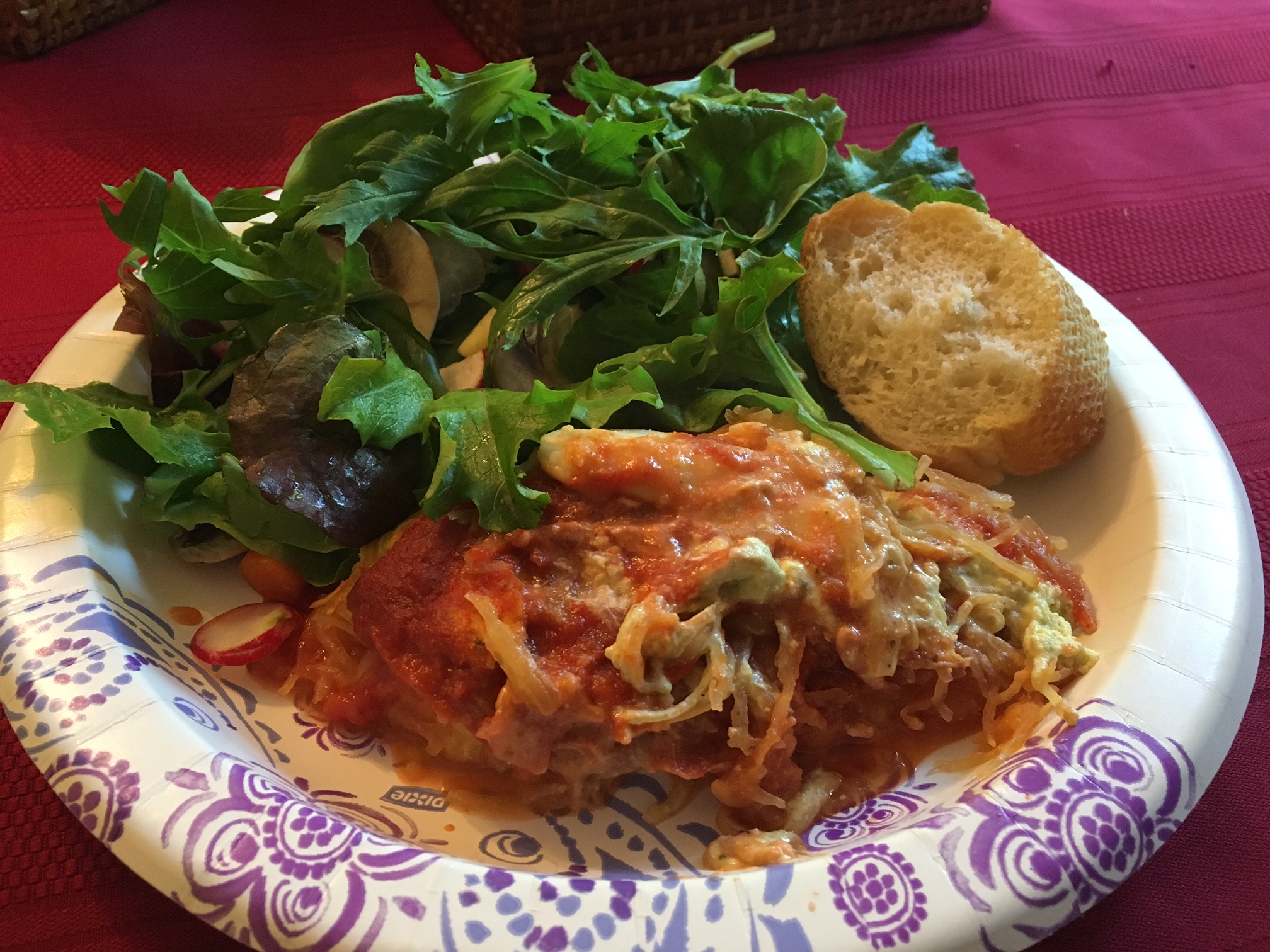 What I'm Reading
I got started on The Morrigan's Curse… and then realized I'd read the previous book in the series so quickly (and at a time when I had so much going on) that I didn't remember a lot of what came before! So I'm going back to the previous book and re-reading that one before continuing on.
Write a dating profile for one of your past finished projects.
Introduction: Mature, well-loved blanket seeks people who like to cuddle.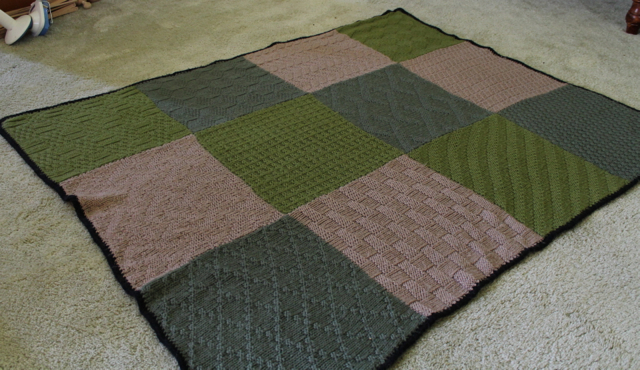 I was made all the way back in 2006 when my creator had less than a year's knitting experience. She heard her beloved Mission Falls 1824 Wool was being discontinued and snapped up twelve skeins on clearance.
And okay, Mission Falls doesn't necessarily hold up so well over eight years of heavy use and many trips through the washing machine and dryer.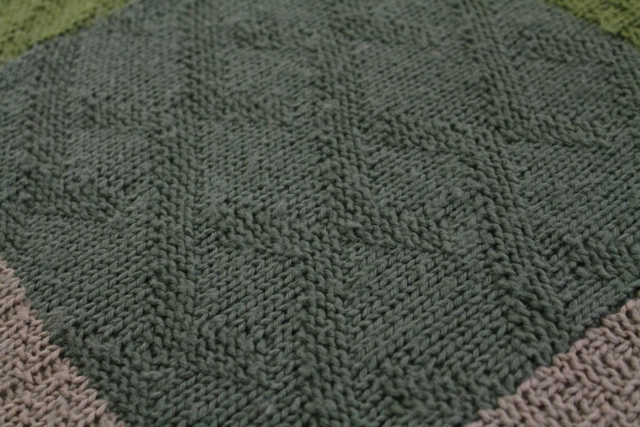 Character. I have lots of character.
Interests: I was created over a period of about a month as my knitter discovered what would become her favorite show, Stargate SG-1. So now my friends call me the Stargate blanket.
I also have a fondness for crochet, since my knitter learned how to crochet to make my edging: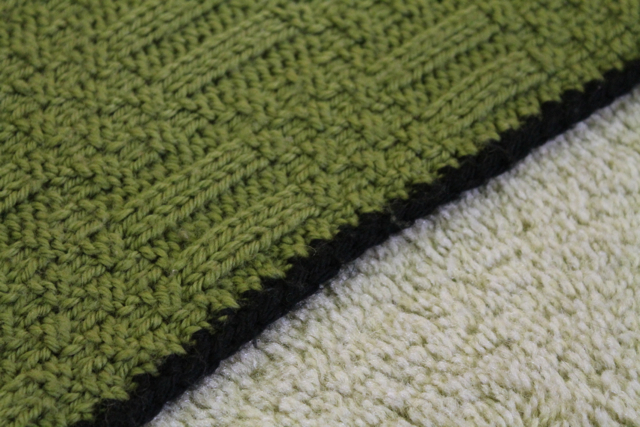 Dislikes: Now, I wouldn't say I dislike this guy exactly: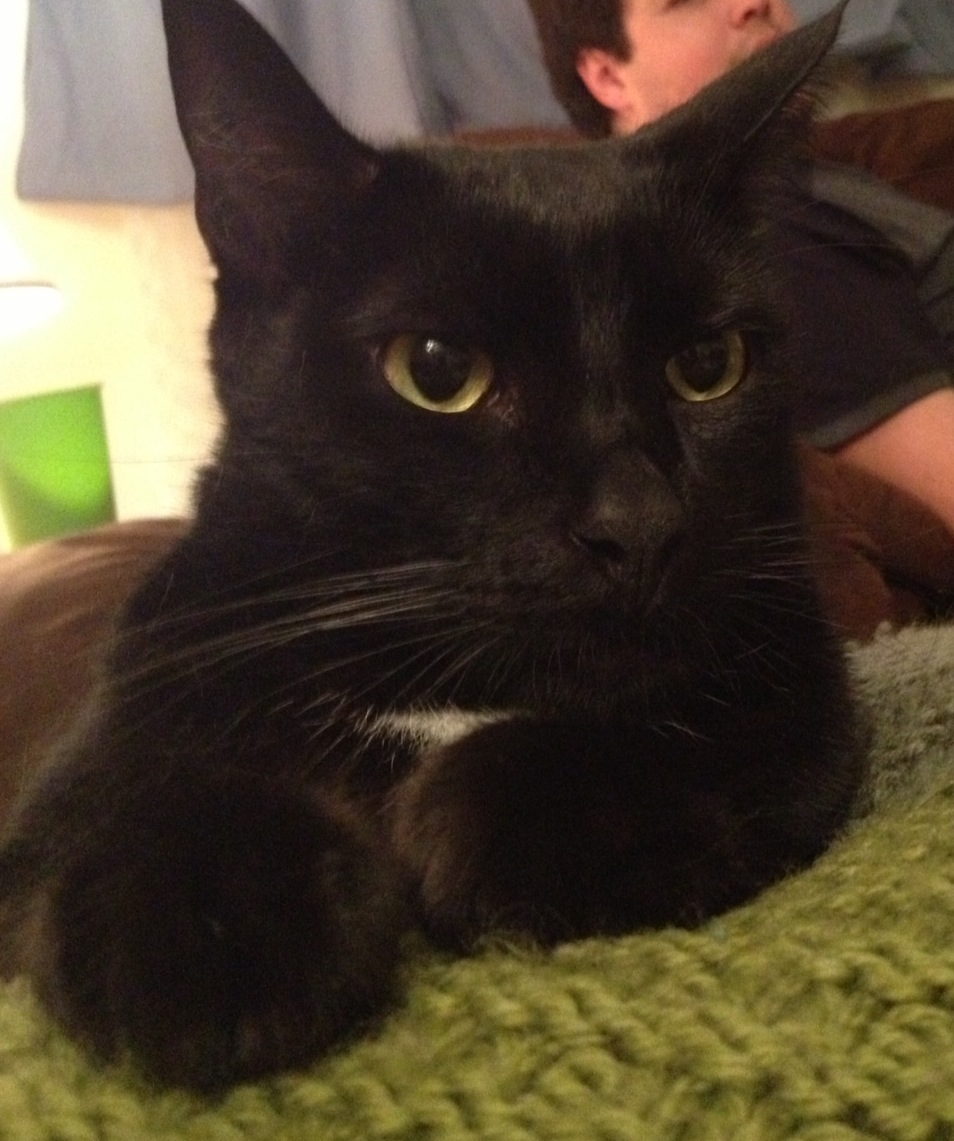 But when he gets too comfortable, the kneading can get out of control. I'm just saying.
The Future: I have a sneaking suspicion that I'm going to be getting pretty cozy with the new baby arriving in a few months. I'm soft and just the right size for floor time and snuggling.
Plus I have it on good authority that I make a pretty good superhero cape: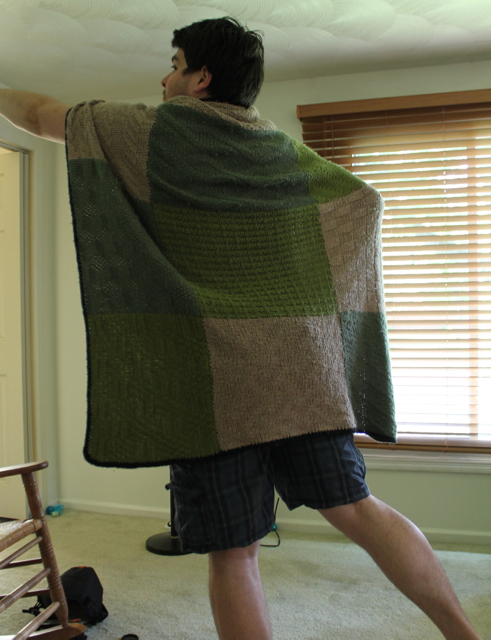 Today's topic asks: Are you a knitter or a crocheter, or are you a bit of both?
I am a knitter, through and through. I've taught myself to do single crochet for edgings and joining, but other than that, I'm pretty terrible at it.
Every once in a while I get an urge to improve my crochet skills, though… usually when I see some adorable amigurumi (like Stacy Trock's — LOVE her stuff! Sandford the Squid and Morris the Dragon are my faves) or something heart-wrenchingly adorable like these baby Mary Janes:
Besides my lack of skill, I don't see how I could ever watch TV/look out the window/read a book while I crochet. I can do all of those things while knitting, as long as my project isn't too complicated. I can feel the stitches as they slide off the end of the needle without needing to look at them. Crochet, as far as I can tell, requires you to look down to see where to insert the hook, regardless of skill level.
That said, I am glad I know how to edge things in crochet. That definitely comes in handy.
Here's a little baby jacket with crocheted edging and button loops:
And a blanket with crocheted-together squares: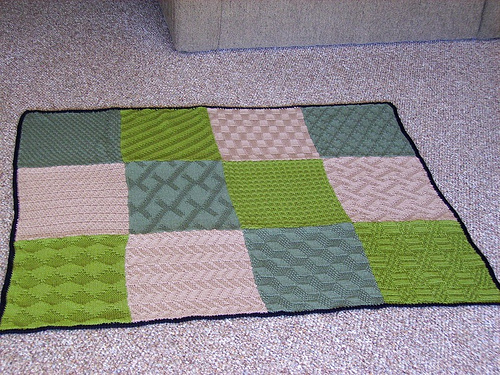 I've dabbled a teensy bit in other crafts, but I don't think I can ever feel the same unbridled love for crochet (or sewing, or papercrafting, or sculpting…). To me, knitting is the best of all worlds–meditative and calming, yet challenging; endlessly versatile; beautiful and useful.
I don't fault anyone for feeling differently, of course–things would be very boring if we were all the same!