(I know it's Saturday, but the day got away from me yesterday! So if everyone reading this would just pretend it's still Friday for a minute, that'd be great.)
What I'm Knitting
Hey look, something I can show you! I mailed off the big commissioned sample (yay!) and immediately got to work on a little neckwarmer for my son.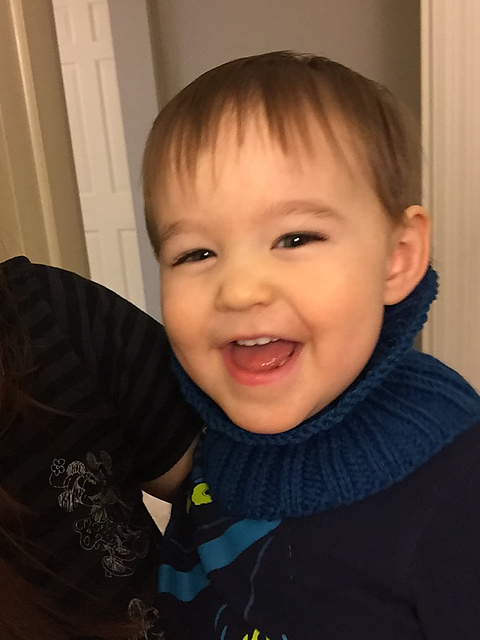 It's just a super-simple 2×2 rib in the round in a skein of soft Knit Picks Swish Worsted I had lying around, but it's already gotten a lot of use! I tuck it under his jacket and pull it up around his ears to block wind. We went to the zoo a few days ago in 25 degree weather (I know, I know), and he was snug and warm with his handknit mittens, hat, and neckwarmer.
I have to say, too, that it was really nice to knit such a simple item after lots and lots of more complicated knits. Everyone needs a brain break now and then!
What I'm Cooking
I actually cooked something fancy this week! Homemade vegan alfredo sauce with spring peas and asparagus over pasta, which was really tasty. But… I forgot to take pictures. I used this recipe from Minimalist Baker (one of my favorite recipe sources). I've tried a lot of vegan "cream" sauce recipes, and this was definitely one of the best!
What I'm Reading
Um, a potty training book. Ah, parenthood.