The blue Tosh sweater is finished, blocked, and photographed!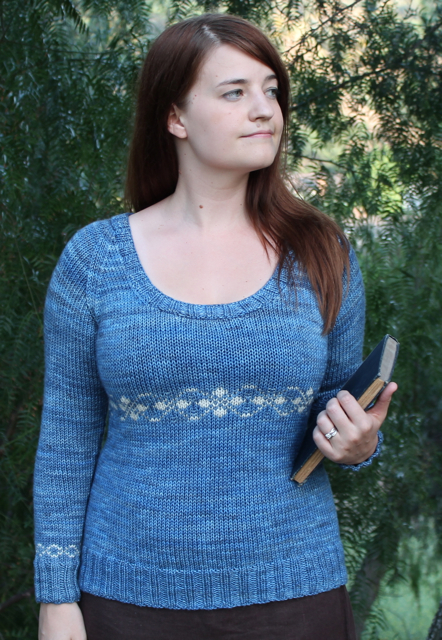 I'm so, so happy with the way this design turned out. My intention was to design a colorwork sweater that would be flattering to larger-busted gals. Here's my original sketch: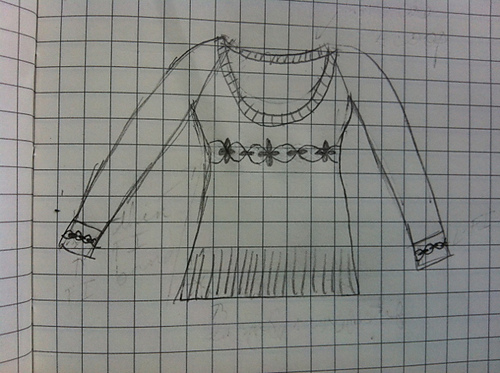 I did add ribbing on the sleeve cuffs. My first idea was to do a turned hem, but I don't think it would have looked right with the ribbing at the bottom and the neck. Other than that, the sweater's pretty much the same as I envisioned!
Hubby and I went out to a local park and strapped the 50mm/f 1.8 lens to our Canon Rebel T3. I cannot begin to express my love for this camera and this lens. Practically every shot pops right off the screen. And after hours of manually blurring backgrounds in Photoshop on the pictures from our point-and-shoot, having pics that don't need anything more than a little cropping is spectacular.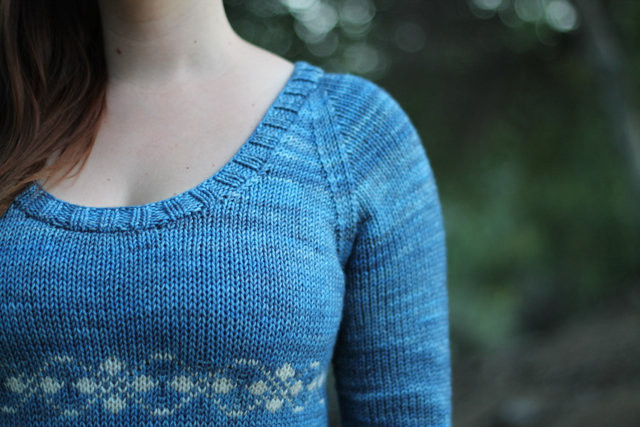 The Tosh just glows, doesn't it?
Here are the specs on the FO:
Pattern: my own, tentatively called Blue Betty. I'm hoping to get it into the hands of test-knitters next week and release the pattern in a month or two.
Needles: 32-inch circs in US #6 and #7, plus DPNs in both sizes. Loving my Knit Picks Harmony DPNs–they really make sleeves in the round more enjoyable.
Yarn: madelinetosh tosh vintage in Betty Draper's Blues (about 4 and a half skeins) and Antler (about 1/4 skein).YUM. Tosh vintage remains up there on my all-time-favorite yarn lists.
Two of my skeins were much darker than the others, which unfortunately didn't show up until I wound them into balls. I alternated skeins on the sleeves and yoke to address this, and I think it worked out okay. There's a little bit of striping, but nothing I can't live with. You can see it on the upper back in this pic: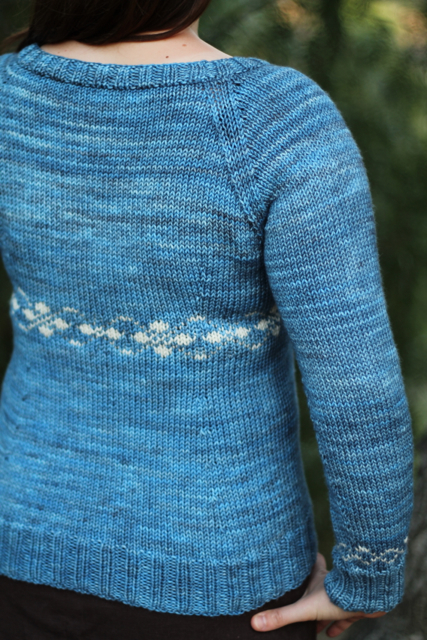 Notes: I love the fit of this sweater. I tried back shaping only instead of my usual side shaping, and I'm totally sold. My back is much narrower than my front, so this sweater fits me better than any others I've knit. The colorwork band pulls in right under the bust and adds an almost empire waistline effect.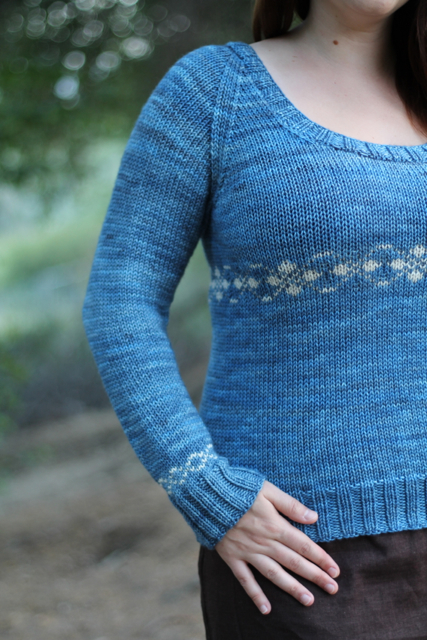 Now on to writing up the pattern! Also fun, but not as fun as knitting (and wearing) the sweater…