I got the yarn for one of my commissioned designs and have been knitting as fast as my fingers will go… but of course, I can't show any of that here.
So instead, I'm going to talk about something only tangentially-yarn related: Kirby's Epic Yarn!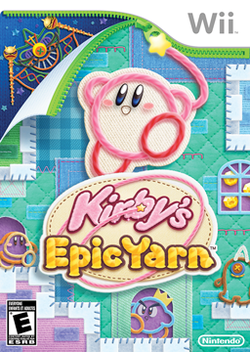 I got this Wii game as a gift a few weeks ago (my brother's comment as it was gifted: "How do you not have this game already?"). I played a few Kirby games when I was younger, but this one isn't much like those at all. Instead of being able to inhale his enemies and take on their traits, Kirby is made of… wait for it… yarn. So he can transform into other shapes by himself instead.
The whole world of the game is a smorgasbord of crafty materials: fabric, yarn, buttons, beads. There are patches to pull off the walls, zippers to unzip, fabric to fold, and things to sew together.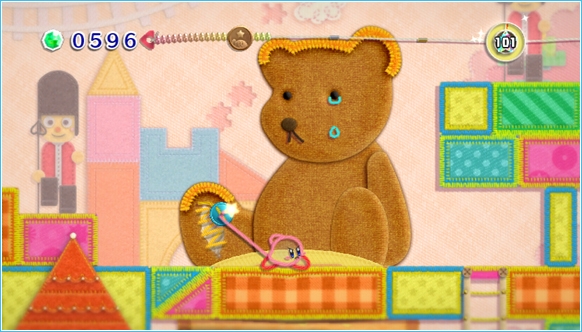 The main villain knits his minions using a pair of very angry-looking knitting needles and wears a sock around his neck: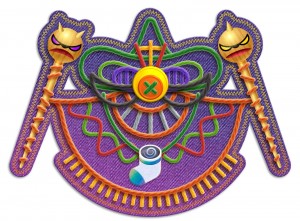 Now, my favorite games of the past few years are the LEGO Harry Potter and Star Wars games–so I'm not exactly a hardcore, Call of Duty-type gamer. But I have to say, I was a little disappointed in this game. Once I got over the novelty of everything being made of yarn and fabric, the gameplay didn't do much to hold my attention. It's easy. Like, really, really easy. I'm playing in two-player mode with my hubby, and we both agree that the game was probably aimed more at the 7-12 year old set.The cutscenes are narrated by a guy who sounds like a kindly old uncle telling a story to his toddler and feature lots of highbrow lines like this: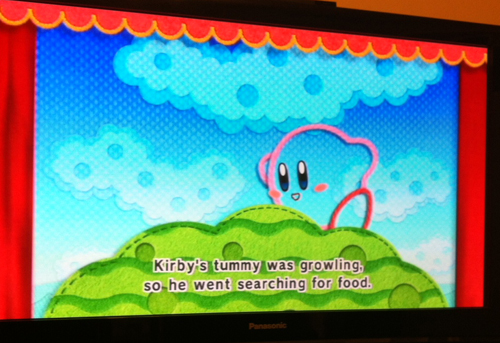 So… yeah. It's not a bad game, especially for those more interested in the fibery aspects than the gameplay. The design is pretty awesome, at times even inspired. And I have a high whimsy threshold, which means I'll probably keep playing the game to the end.
Have you tried Kirby's Epic Yarn? What did you think?
I've been knitting my brains out for the past few weeks… but unfortunately I can't show you any of it. Three commissioned designs, three patterns to submit to Knitty, more swatches than I can keep track of.
The green sweater (which I'm planning to self-publish) is finished, but it needs blocking and buttons. I have a strict don't-show-before-it's-blocked policy, so that one's gonna have to wait too.
I've also been rediscovering my addiction to 90's sci-fi TV shows. Am I the only one who thinks shows used to be much more fun 15-20 years ago?