The baby blanket is almost done! It looks a lot better now that it's not so scrunched up on the needles: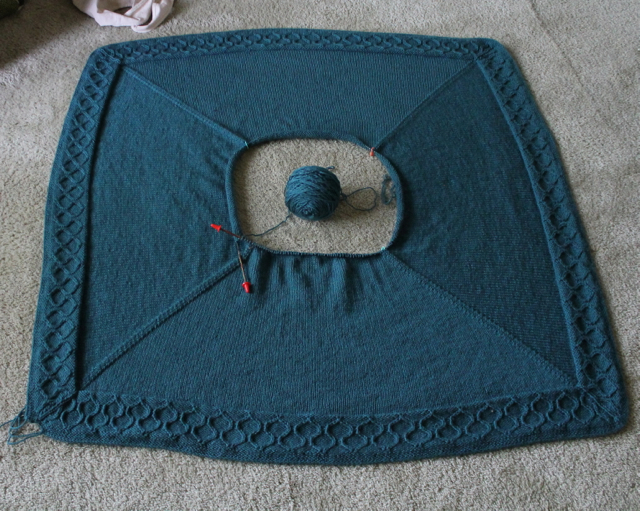 I ran out of yarn a few days ago and ordered a couple of skeins from Knit Picks on Monday with express shipping. Imagine my shock when they were on my doorstep yesterday. Their warehouse is in Ohio, only one state away from me, but still–that's some lightning fast shipping!
I think I might do another repeat of the border pattern to echo the motif and break up the swath of stockinette, but I haven't 100% decided yet. I'll probably try it–I can always rip it out if I don't like the way it looks. (It's a lot less daunting to rip out sections at this point than it was earlier, when there were 600+ sts!)
I'm also deep in planning for the TNNA summer show this weekend. Like last year, I'm part of a rotating exhibit of designers through my print pattern distributor, Stitch Sprouts. I'm really excited that the show is in Indianapolis this year, only about 45 minutes away from me. It means I can haul my 7-month pregnant self there without too much difficulty.
I wanted a good way to display some hats on a table in my booth, but I forgot to order early enough to get cute hat stands from Etsy or eBay (I blame pregnancy brain). So yesterday I went out and got some inexpensive paper towel holders, styrofoam balls, fabric remnants, and ribbon. Following parts of a few different tutorials I found online, I came up with this: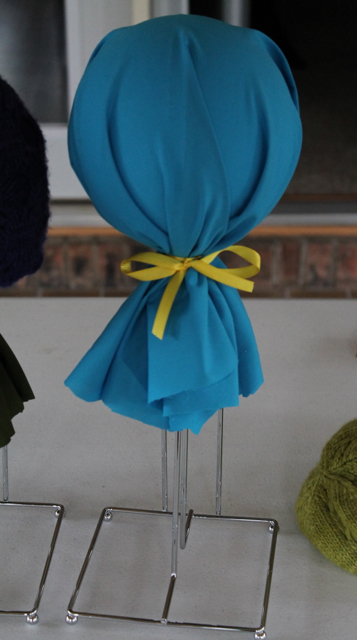 I think they turned out pretty cute!