We're entering the last week of the Indie Design Gift-A-Long over on Ravelry (check it out here if you want to join in the fun!). One of the best things about the GAL for me is discovering new-to-me designers.
Tanja Luescher designs gorgeous lace shawls and accessories. She kindly answered a few questions for me, so without further ado, here's the interview!
Triona Murphy (TM): What inspired you to start designing?
Tanja Luescher (TL): I modified patterns or used recipes to create my own very soon. I'm very small, so I had to make changes to get something that fits me. After a course on shawl design by Renee Leverington I felt confident enough to publish my own patterns.
TM: You have such gorgeous intricate lace designs! What is your design process like for these?
TL: In the beginning, I take out my huge collection of stitch dictionaries and see what I fall in love with this time. Sometimes I have an idea what I'm looking for, sometimes I just let the pictures inspire me. When I've found one or more stitch patterns, I change some details here and there to make them work for the item I have in mind, and after that begin to knit. In that phase, a lot can happen. A shawl might become a cowl, stitch patterns get added or removed. I have to see the knitting on my needles to know what the design really wants to be. I envy those who have a perfect plan and a pattern written out before they begin to knit. Maybe I'll get there some day. :)
TM: Are you participating in the Gift-A-Long as a crafter as well as a designer? If so, what do you plan to make/have you made?
TL: I've cast on Vining Roses by Natalia Sha, Fairy Ring Socks by Kirsten McTeer, Pleach by Clare Devine and Sand Tracks Scarf by Tracey Lee. I love this opportunity to knit other people's designs! :)
TM: Is there a design of yours that you love and would like to see more people make?
TL: Yes, Soraya's Faroese Shawl, I'd love to see it get more attention.
TM: What are your design goals for the next year?
I want to have more than 30 patterns available and answer some submission calls. An idea I've already begun with is working with Caterpillargreenyarn's Shawl Striping yarns and see what happens when you use them for other shapes than the triangles that they are meant for. It's so much fun to experiment with the gorgeous colors!
I have another fun interview with a fellow Indie Design Gift-A-Long designer today! Gillian has some adorable patterns in her Ravelry shop, and I've already seen several pop up in the KAL/CAL threads in the Gift-A-Long Ravelry group. I asked her a few questions about her design background and inspirations.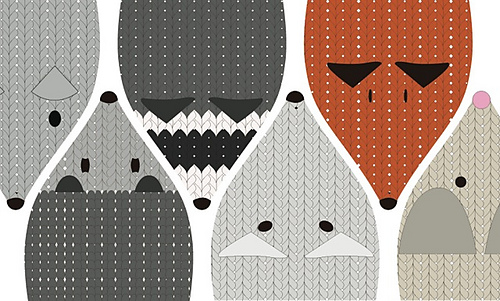 Triona Murphy: What inspired you to start designing?
Gillian Grimm: I've always been a tinkerer when it comes to patterns, in both sewing and knitting. I spent several years making adjustments to existing patterns to better suit my needs and that led to designing things from scratch. Once I started down that road there was no going back :)
TM: Your mitten patterns for kids are adorable! I especially like the Gnome Mittens and Little Hedgehog Mittens. What inspired you to start making them? Which one is your favorite?
GG: Well thank you! My animal mittens were inspired both by the creatures that lived in the woods around us and also characters from children's books. I was especially inspired by Jan Brett's The Mitten and some of her other picture books for my first round of animal mittens and I have some new picture book inspired mittens in the works that I hope to release during the GAL! I also draw inspiration from my children and their friends. I'm always looking for ways to create items that they will wear and love and have fun with!
TM: The name Birch Hollow is very evocative. Do you really live near birch trees, or are they just favorites of yours?
GG: Birch Hollow Cottage is, indeed, a real place. Until this spring we lived high up in the mountains in Vermont in a house surrounded by birch and maple trees, plenty of wild animals and two creeks. It was the perfect place to curl up in front of the wood stove with piles of wool and knit and dream away. We're now living in an old house in Portland, Oregon, which we also love, although I'm not sure anyplace will every compare to our time in the Birch Hollow. :)
TM: Are you planning to participate in the Gift-A-Long as a crafter as well as a designer? If so, what do you plan to make?
GG: Definitely! We try to make Christmas each year as much about handmade and homemade gifts as we can. I'll be picking out some hat and scarf patterns to make as gifts but I'm also on the hunt for a great sweater pattern that I can make for myself in the new year.
TM: What are your design goals for the next year?
GG: I'll be releasing most of my animal mittens in adult sizes as well as introducing some more animals into the group. I've also got some fun hat projects in the works, plus I'd like to branch out more in the shawl area. I've got lots of sketches and ideas and I can't wait to get knitting.
I hope you enjoyed getting to know Gillian as much as I did! As for my own GAL knitting, I finished a present for my son's first Christmas. Stay tuned for that soon!
I recently designed some accessories for the Harrisville Designs Autumn '13 collection, and today they have an interview with me up on their blog!
They haven't released the collection yet, so no pictures of the finished items… but I can show you my swatch of the stitch pattern (shown in the blog post, so I'm not giving anything away).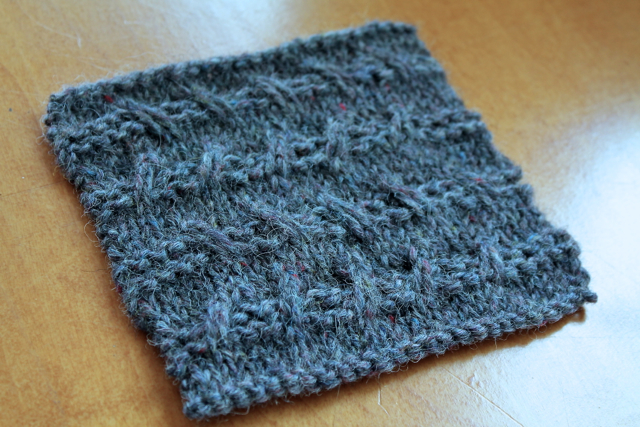 The yarn I used, Harrisville WATERshed, was ammmaaaazzing. It looks like a crunchy, tweedy, rustic yarn, but it feels incredibly soft and lofty.  I can't wait to see the rest of the collection–and like I said in the interview, I'm definitely eyeing this yarn for a future sweater design.