(This is one of a series of design posts. The earlier posts can be found here.)
Remember I said we had a failed photoshoot for the gray sweater? Well, I was going through the pictures we got and realized something. Something not so fun.
I think I want to rip out and re-knit 30-50% of the sweater.
This is a really tough decision, particularly because it has nothing to do with the fit of the sweater. The fit is perfect, actually. See below: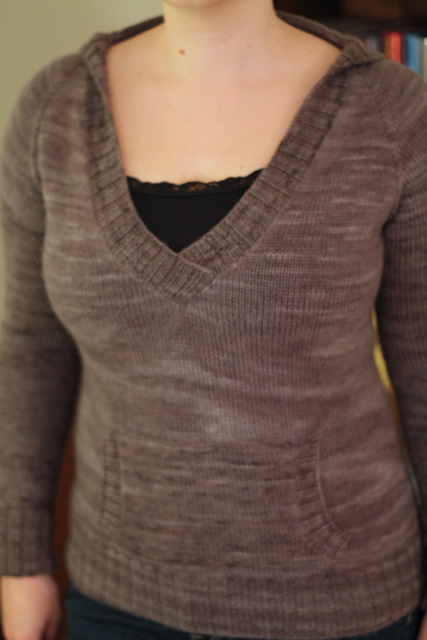 What's not so perfect (and even easier to see in these pictures than in life!) is the really terrible pooling of the hand-dyed yarn at the waist and below. This is particularly irritating because the upper body was knit with the exact same skein, but the smaller width below the armholes didn't agree with the length of the color changes. What's worse, I was working on this sweater mostly in the evenings in front of the TV and didn't notice until the whole body was finished.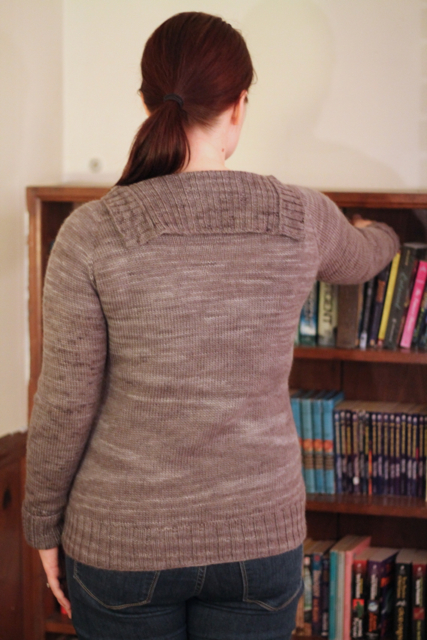 It's also easy to see that the second skein I used for the sleeves and front pocket, while appearing virtually identical in the skein, included lots of dark bits not found anywhere in the first skein.
To tell you the truth, this is the kind of thing I'd ignore completely if I were knitting the sweater only for myself. The fit is perfect! The sweater is snuggly and cozy, just like I wanted! Who cares about some color differences?
But since I'm planning to sell the pattern, I know I won't be happy with anything less than great pictures. And that is going to require ripping, rewinding, and alternating skeins.
Sigh.
Another factor is the season. This sweater is definitely more of a fall/winter piece. By the time I get it re-knit (sport-weight yarn, remember), we'll be well into the spring/summer knitting season. So I think this is going into the WIP bin for a few months. I'll probably revisit it in July and get everything ready for test-knitting during August, which will put me on track for a fall 2013 pattern release.
But it's not all doom and gloom on the pattern-writing front! I started a new vest design with more Rhinebeck yarn, these two beautiful skeins of Cephalopod Traveller: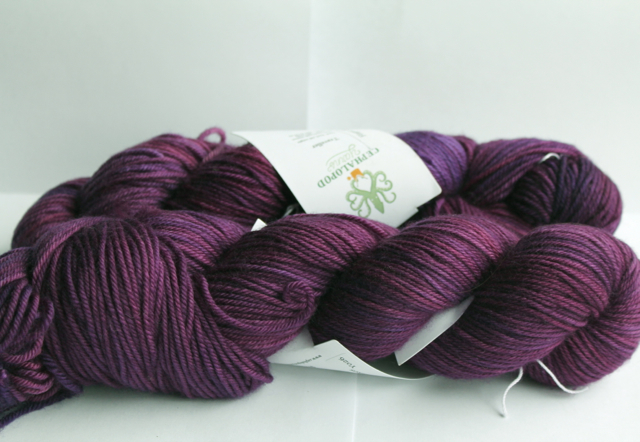 Learning from my mistakes, I've been alternating skeins the whole way. I'm pretty sure I'll run out of yarn before I reach the end, but I found a Raveler willing to sell me a skein of this colorway and it's already on the way, so no worries there. The vest is really, really cute so far. A great cure for the meh of the gray sweater.