FO Friday: Concord Grape Vest
Here's the official FO Friday post for the new vest! I put it up for testing yesterday and have several people signed up already, woohoo!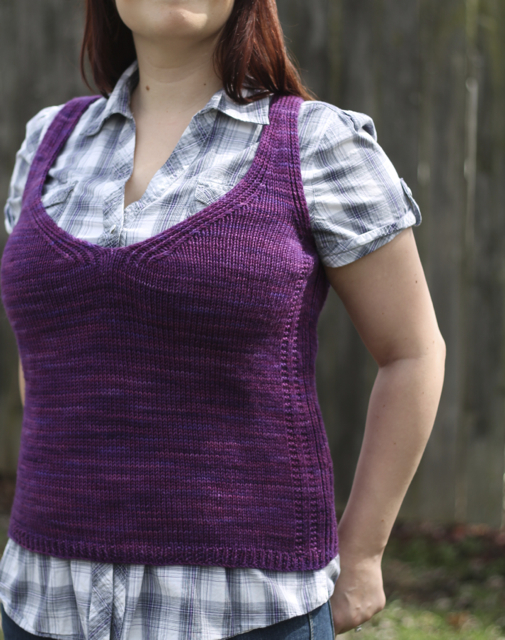 I'm soooooooo happy with the pictures we got. My husband is learning the ins and outs of our Canon and does amazing things with the 50mm lens.
The specs:
Pattern: my own, tentatively scheduled for release mid-May. Oh, and I decided to go with "Concord Grape Vest" as the name. Concord by itself was making me think of the Concorde–not exactly the vibe I'm going for.
Yarn: Cephalopod Yarns Traveller in Finger Lakes, 2 skeins purchased at Rhinebeck last year and about a tenth of a skein from a nice Raveler who destashed to me when it looked like I would definitely run out.
This yarn is delicious. It's springy and nice to knit with, and the colors… well, those pictures are unretouched. That's really what the colors look like in person.
I do highly recommend alternating skeins, however. My three skeins were all completely different, to the point where I know I would have had big blotches of color if I hadn't alternated every two rows.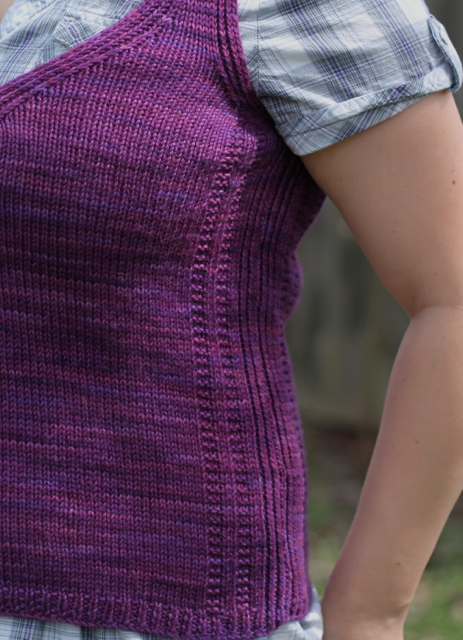 Notes: Although I usually try to avoid sewing seams, I wanted to knit something a little more portable than my recent projects (gray sweater, I'm looking at you…). A vest in pieces was perfect. And the seams are short enough that it wasn't too bad. I'm starting to actually like mattress stitch, can you believe it? It's fun to see the pieces come together like magic.
Knitting the front and back separately helped me concentrate on the slightly unorthodox shaping, too. Since I wanted the armhole and neck edgings to be knit along with the main piece, I couldn't do any traditional binding off at the beginning of rows–so the whole thing is shaped with double and single decreases, just inside the twisted rib edging. It was challenging to get the right ratios for the curves I wanted (there are sections with double decreases every row, then double decreases every other row, then single decreases, etc.), but I figured it out!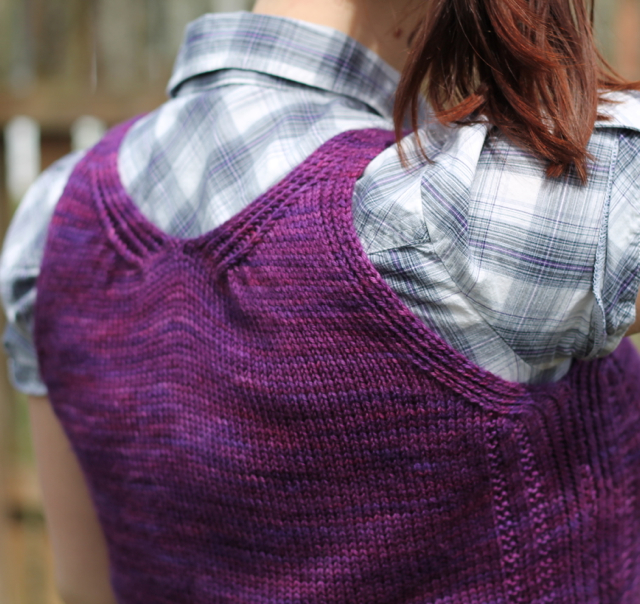 I really like the way the back decreases pull the fabric up, too. It's a result of decreasing many stitches quickly over not very many rows–but I think it worked out very serendipitously!
All in all, I'm pretty dang happy with this vest. It came out just like I envisioned it. :-)