I have an FO I can show you for Friday! Second week in a row!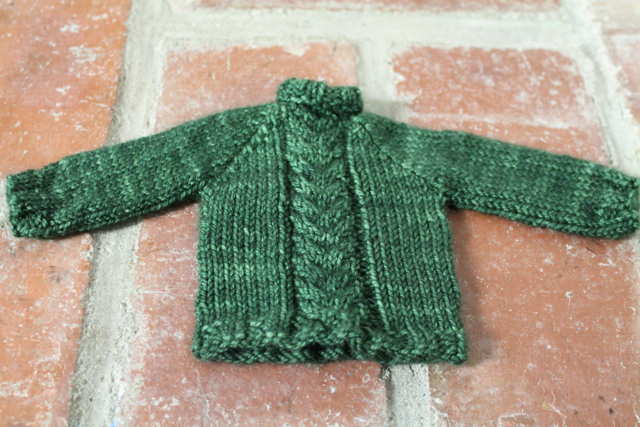 Although that photo doesn't show scale very well, it's little, trust me.
The specs:
Pattern: Tiny Holiday Sweater Ornament, free from the KnitPicks website. I didn't use my own pattern! Gasp!
Yarn: Madelinetosh Tosh Sport in Moorland, leftovers from my Put Together sample.
Notes: I didn't enjoy this knit, unfortunately. Part of it is my fault–I didn't have enough fingering weight yarn around, so I decided to knit it with sport weight on size 2's. This meant the stitches were very tight and it was hard to work the front and back cables without a cable needle (my preferred method).
The pattern itself was too fiddly for my taste. Also, I would estimate it took me about 6-8 hrs of knitting. That's as long as I would spend on a worsted-weight hat or mitten: too long for an ornament, in my opinion. I'm planning to make a few more little sweaters for gifts, but I'm going to find a nice DK or worsted pattern for the rest.
At least it came out cute! It's hard to make anything out of Madelintosh that doesn't look fabulous, really. Look at the depth of color: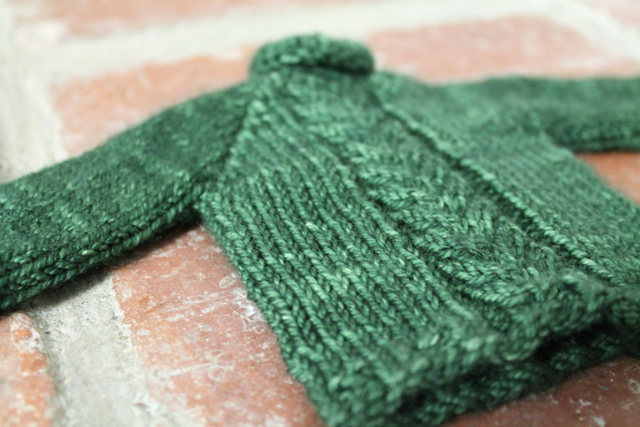 And in other news, I'm planning to knit yet another pattern of someone else's, this time for my adorable 2.5 year old niece! I have a few skeins of Malabrigo Arroyo in a lovely grayish-purple that have been sitting around waiting to become something, so I swatched it up yesterday: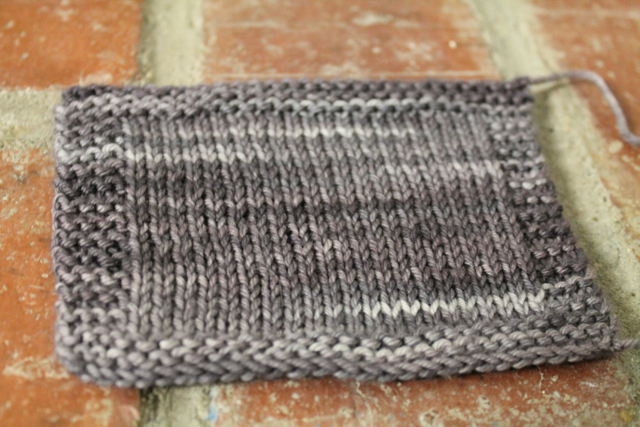 Isn't that gorgeous?
Glamour shot: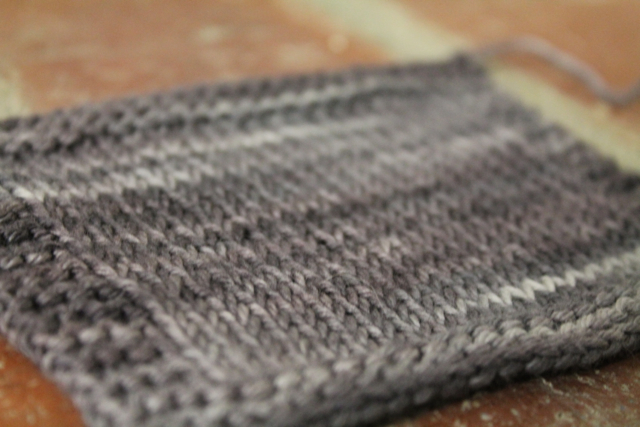 I'm drooling over little girl patterns on Ravelry, trying to pick out the perfect one. It's such a novelty to be able to pick and choose without having to write my own, haha!
My current favorites are (Rav links):
Sweet Peasy: This is really cute and looks quick and simple. My gauge is a little smaller than required, so I'd have to go up to the next size and hope for the best, though.
Saffron: RIDICULOUSLY cute. I'm a little worried it's too girly for my niece's stylish mama, though… and I know from experience that ruffles are painful.
Sweet Poppy: Love this one… but I'm a little worried I'd run out of yarn. Also, the sweater has to be mailed all the way across the country, and I'm thinking the drapey fronts probably wouldn't fare so well. It might need re-blocking at the other end!
Do you have a go-to toddler sweater knit in sport or DK weight yarn?