The Indie Design Gift-A-Long Launched Today!
So here's something exciting: a whole group of independent designers got together on Ravelry a few weeks ago and decided to put together a promotion/knit & crochet-along for the months of November and December (just in time for gifting, hence the "Gift-A-Long" name).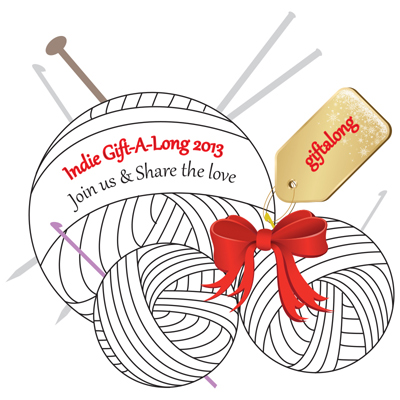 Here's how the Gift-A-Long works. From Nov. 1 – Nov. 15, participating designers are discounting select patterns by 25% with the coupon code giftalong. You can see a list of all discounted patterns here in the Ravelry thread. I've decided to apply the discount to all of my self-published patterns–because hey, sometimes people deserve a hat, and sometimes they deserve a sweater, right? Or maybe you want to knit a "gift" for yourself… that's okay too. :-)
Once you've got a participating pattern (or even if you had one already), you can knit (or crochet) along with others in the Indie Gift-A-Long Ravelry group until December 31st.
Also! There are prizes. Really, really good prizes. There's a full list of them here. I donated a few awesome skeins of yarn I had in my stash. If you're interested in the chance to win any of these, hop on over to the Gift-A-Long group and check it out!